President Slams Gov't for Abolishing Security Council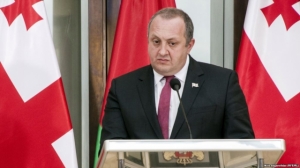 Georgian President Giorgi Margvelashvili criticized the Government for abolishing the National Security Council (NSC), an institution under the Presidential Administration.
"The abolition of the Security Council was such a political absurd that could not even be dreamt by special services of other countries," Margvelashvili stressed while delivering speech at the conference on national security in Gori, Central Georgia.
According to him, by abolishing the Security Council Georgia "no longer has the most important place for making political decisions about the united position of the military-political leadership."
Margvelashvili says the ruling Georgian Dream (GD), realized they have made a mistake by abolishing Security Council. He added now the majority started thinking about setting up a similar body, which would deal with security challenges.
"The good news is that they are now thinking how to invent a new bike and restore this format. It is good that they have realized this so quickly," said the president.
The National Security Council of Georgia, an advisory body for the President of Georgia dealing with matters of national security, was set up to organize the military development and defense of the country. The president of Georgia is the head of the National Security Council, approving the structure of the National Security Council Office, its personnel, and regulations concerning the office and its subdivision.
According to the amendments to the Georgian Constitiution, adopted by the parliament in September 2017, as soon as the new edition of Constitution takes effect, NSC will be abolished in order to establish a new body – the National Defense Council which will function only during wartime.
Last week, Georgian Parliament's Defense and Security Committee Chair, Irakli Sesiashvili, stated that there might be need in the country to create a new body, working on national security issues.
Sesiashvili said in order to make decision-making process on security issues better, it is necessary to establish a unified analytical center at the national level. He underlined that in his opinion the country needs to have a common vision in every direction - especially when it comes to defense and security.
By Thea Morrison
07 February 2018 09:24