EASO: Asylum Applications by Georgians to EU Increased by 113%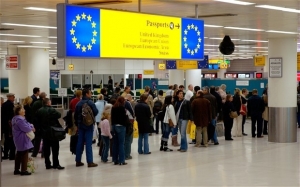 The European Asylum Support Office (EASO) has said that monthly applications by Georgian citizens to European Union countries have increased by 113% since September 2017.
The office says despite the issuing of a high number of asylum decisions by national asylum systems in the EU+, and a resulting decrease in backlog, nearly half a million cases remain pending.
EASO reports that in January 2018, some 54,000 applications for international protection were lodged in the 28 European Union Member States, plus Norway and Switzerland (EU+). It added that despite issuing close to 60,000 decisions in the first instance, approximately 450,000 cases were still awaiting a decision.
"Even though these numbers are lower than for most of 2017, the figures indicate that the asylum situation in Europe is still not completely clear from the effects of the spike in applications in 2015-2016," the EASO press-release reads.
The office also reports that together, EU+ countries are issuing more first-instance decisions on asylum cases than the number of new applications that are being submitted, which reflects the success of the investment that Member States are making into backlog management and the continued focus on the decision-making capacity in some countries. It also says that there was a decrease in the number of pending cases, down from approximately a million in late 2016 to less than half a million at the end of January 2018.
"Of significance in the figures for January 2018, the data shows that Georgians became the sixth most common citizenship among all applications in the first instance. The figures indicate that Georgians have been applying for asylum in increasing numbers since a Visa-Liberalization agreement for travel in the Schengen Area took effect in March 2017," the statement reads.
EASO says in January 2018, applications submitted by Georgians more than doubled (an increase of 113%) the number registered four months earlier (from 874 in September 2017 to 1,859 in January 2018).
"Despite the increased numbers of applications and resulting pressure exerted on national systems, just 3% of Georgians who applied for asylum in the EU+ were granted either refugee status or subsidiary protection in 2017," the press-release reads.
By Thea Morrison
Photo source: iset-pi.ge
02 March 2018 10:00