Georgian President Awards Deceased Tatunashvili with Order of Honor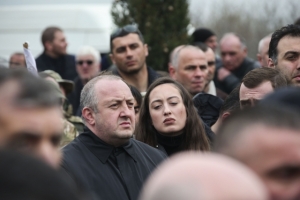 Georgian President Giorgi Margvelashvili has awarded Georgian citizen Archil Tatunashvili, who died in custody in a detention facility in Georgia's occupied Tskhinvali region ("South Ossetia") on February 23, with an Order on Honor.
The puppet regime at first refused to hand Tatunashvili's body over to Georgia-proper authorities following his death in custody in unclear circumstances. However, late on March 20, the body of Tatunashvili was transferred to the Georgia-proper side of the boundary line and on March 24, he was buried with military honor at Mukhatgverdi military cemetery on the outskirts of Tbilisi.
Georgian media says the body has multiple injuries on the hands and head, and claim it is obvious that 35-year-old Tatunashvili had been tortured.
De facto Tskhivali claims Tatunashvili was "suspected of sabotage and murder of civilians" during the Georgia-Russia August war 2008.
They say their "law enforcers" used physical force against Tatunashvili when he attempted to escape, adding that as a result, he fell down stairs and died two hours later in hospital.
After the funeral, the President directly stated that Tatunashvili had been tortured.
"I want to tell those who are carrying out such actions against us: we have gone through such periods many times, for centuries, and we are ready for such a fight. We always win and we will win this time too," Margvelashvili stated at the cemetery.
By Thea Morrison
26 March 2018 11:23