Police Arrest Two over High-Profile Murder Case of Teenagers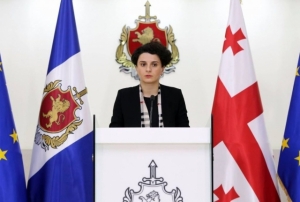 Georgian police have arrested two men – Former high ranking official of the Prosecutor's Office, Mirza Subeliani, and Merab Morchadze on charges of failure to report crime and exertion of influence on a witness, respectively.
The Information was released by Georgia's Ministry of Internal Affairs (MIA) on Saturday.
MIA says that Subeliani is detained under the Article 376 of the Criminal Code of Georgia, for not reporting the murder that occurred on Khorava Street on December 1 of 2017.
As the ministry reported, Subeliani met his nephew Mikheil Kalandia, the main case witness, and one of the murder suspects (G.J.), immediately after the incident, but did not report to the police that he knew about everything. Subeliani faces home arrest or imprisonment for a term of two to four years.
As for Merab Morchadze, the police say he is a friend of G. J.'s father, adding he convinced Mikheil Kalandia to change his initial court testimony, in which he had said G. J. had a knife during the incident.
Deputy Minister of Internal Affairs, Natia Mezvrishvili, said at the briefing on Saturday that the MIA will establish and hold responsible each person who has any connection with the crime.
"The Ministry of Internal Affairs is open to the public and is ready to answer any questions. We are already cooperating with the Public Defender's Office and are ready to cooperate with the Parliamentary Investigative Commission," said Mezvrishvili.
Two teenagers–Levan Dadunashvi and Davit Saralidze–were brutally stabbed to death in a street brawl on Khorava Street, Central Tbilisi on December 1, 2017.
On May 31, Tbilisi City Court charged two minors – one for the premeditated murder of Dadunashvili and the second for attempted murder of Saralidze; however, the court could not say who killed Saralidze, which has sparked mass protests in the capital.
Georgia's Chief Prosecutor Irakli Shotadze resigned amid the protest rallies, while the Prime Minister ordered to re-investigate the case as there are many questions left.
Saralidze's father asks the authorities to show him concrete results and arrest his son's killer and all people involved.
By Thea Morrison
11 June 2018 10:45