Acting US Ambassador: We Believe Georgia Will Join NATO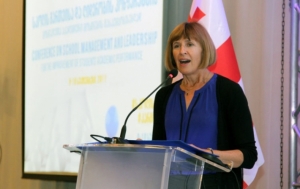 Acting United States Ambassador to Georgia, Elizabeth Rood, says the US supports Georgia's Euro-Atlantic aspiration and believes that it will become a member of the Alliance.
Rood made the statement at a special reception in Tbilisi, held in connection with the US Independence Day.
"Georgia has chosen a path to European and Western integration and we will do everything we can to help it reach this goal. We are working together to deepen Georgia's Euro-Atlantic integration through supporting reforms that strengthen the control and balance between the rule of law and the power of the government," she stated, adding that the US is proud to be the strategic partner of Georgia.
The acting Ambassador said the US supports Georgia's sovereignty and territorial integrity.
Georgian Prime Minister Mamuka Bakhtadze and President Giorgi Margvelashvili also attended the reception.
Bakhtadze thanked the US for its support and noted that since gaining independence, the US has always been by Georgia's side.
"I want to thank the people of the United States once more for the support we feel from them," he added.
In his speech, the Georgian President spoke about the Georgia-US relations and Georgia's high expectations regarding the NATO Summit to be held this month.
He also noted that Georgia is one of the main contributors to global security.
By Thea Morrison
Related story:
Georgia Wishes Happy Independence Day to America
06 July 2018 10:30