Update: Georgia-Russia Border Delays to Be Resolved Shortly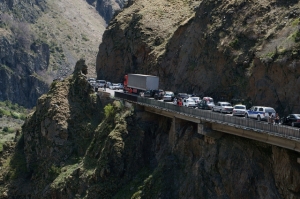 The Department of Public Relations at the Revenue Service of Georgia anticipates that the customs checkpoint at the Georgian-Russian border at Upper/Verkhny Lars just north of Kazbegi will soon be running back at regular capacity.
The Georgian Revenue Service, responsible for customs and tariffs at Georgia's borders, reported that the Russian customs checkpoint was operating at reduced capacity and just half the normal number of cargo trucks were being processed daily. The Revenue Service emphasized that the delays are caused solely by issues on the Russian side of the border and that everything on the Georgian side has been running smoothly.
Georgian customs officials say the situation is improving, and if it continues at the current rate the traffic backups should be resolved in the next two days. "Georgian customs officers are actively negotiating with their Russian counterparts, and as a result, instead of the planned 23 trucks, Russian customs officers allowed 430, which significantly improved the situation at the border. If the work is continued, then in two days the situation will be completely improved," the Revenue Service reports, as quoted by Commersant.ge.
The customs checkpoint has been operating at limited capacity for more than a week, causing massive backups of cargo trucks. The delays have caused problems throughout the region as the narrow, high mountain pass is a major regional transit point for ground transportation. Armenian trucks are particularly heavily affected, as Russia is Armenia's main trading partner and all ground cargo moving between the two countries must pass through this checkpoint. Armenian media outlets reported that on Tuesday, 1,500 trucks with agricultural products from Armenia were stuck on the Russian-Georgian border and as many as 600 cargo trucks had accumulated on the Georgian side.
By Samantha Guthrie
Related Stories:
Delays at the Georgia-Russia Border Due to Issues with Customs
06 July 2018 17:08