Carrefour Partners With Wolt & Mastercard to Support Georgian Children in Need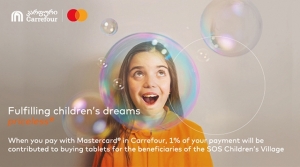 Carrefour, owned and operated by Majid Al Futtaim in Georgia, has underlined its commitment to providing the people and communities it serves value, quality and choice, while positively impacting the lives of its customers. The brand has joined forces with leading food-delivery platform, Wolt, and multinational financial services corporation — Mastercard — to reward customers and empower young Georgians with the launch of two new campaigns.
The first of these campaigns will see Wolt, Mastercard and Carrefour come together to offer customers more access the brand's diverse range of quality products. From 8 February 2021, customers in Tbilisi and Batumi will get 10 GEL cashback on every order when they shop for Carrefour products using Wolt — which stocks over 1,000 Carrefour items — and pay with MasterCard.
The minimum order amount under this campaign has been reduced to 20 GEL, which makes ordering through the fast delivery service even more affordable.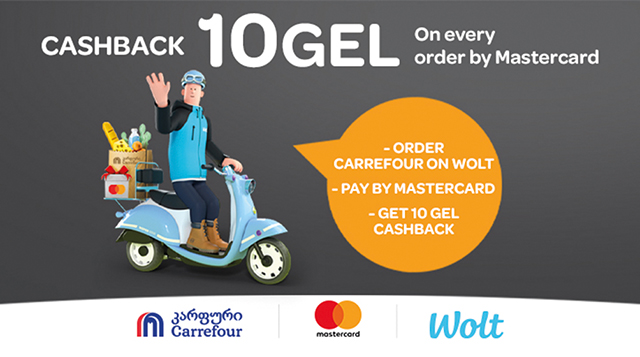 This promotion will allow customers to enjoy a greater degree of comfort, ease and convenience; as well as increased access to a wide assortment of products available for delivery, including fresh fruits and vegetables, household items, and hygiene supplies. These products are gathered in one space, and customers can choose and buy them without leaving home, safeguarding their health and wellbeing in the wake of COVID-19.
Additionally — over the course of the campaign — Wolt-using Carrefour customers will also be gifted significant amount of cash rewards, with this money being deposited back into their Wolt accounts.
This promotion will dovetail with a social campaign initiated by Carrefour and Mastercard to support vulnerable Georgian children, while safeguarding communities from COVID-19 by encouraging the use of contactless payment. Set up to help disadvantaged students across the country, the initiative will provide less fortunate students access to the technology, devices and learning tools they need to succeed.
This campaign will see 1% of all Mastercard transactions completed in a Carrefour Georgia stores donated to SOS Children's Village beneficiaries. These donations will be used to purchase tablets for 109 children, ensuring they are able to further their education and realise their potential..
SOS Children's Village Georgia has served to provide urgent assistance to young people across the country for over 30 years — since the 1990s. Today, the work of SOS Children's Villages has expanded to include working with young people and families in local communities; and providing access to quality education.
Igor Stepanov, General Manager of Mastercard in Georgia and Armenia, said: "When paying with Mastercard in Carrefour branches, customers will be given the opportunity to get involved and contribute to an important and significant project —the SOS Children's Village — ensuring socially vulnerable children across the country can take full advantage of the quality education they deserve to fulfil their dreams and life goals. This campaign is especially important in the context of the COVID-19 pandemic, as it equips these gifted students with the tables, devices and remote learning tools they need to succeed. Together, we can help change their lives for the better.."
Christophe Orcet, Country Manager of Carrefour Georgia at Majid Al Futtaim Retail, added: "We are all proud of our work with our dedicated partners. These collaborations remind us all of the importance of community spirit; demonstrating what we can accomplish by working hand-in-hand to change people's lives. Carrefour has always been committed to supporting the communities it serves. Whether working with Wolt, Mastercard or SOS Children's Village, we are determined to create even more great moments for everyone, everyday."
These collaborations are a translation of Carrefour's position as a trusted local partner creating value for the local industry and economy. In teaming up with platforms such as Wolt, Carrefour continues to position itself as a pioneer of tomorrow 's retail; spurred on by digital growth and a commitment to finding smarter ways of operating and delivering more seamless, tech-driven shopper experiences.
11 February 2021 20:17