Grand Opening of Maserati Showroom in Georgia
A special event dedicated to the inauguration of the first Maserati showroom and store in Georgia was held on 5 July in partnership with Omega Motors Group.
The new Maserati dealership features a spacious showroom providing clients of the brand with an intimate environment that reflects the brand's core values of craftsmanship and innovation. The technical service center, available to customers, meets all conditions to provide superior service. Georgia already boasts a number of Maserati enthusiasts and the unique showroom will provide a wide appreciation to Maserati's unique heritage, exclusivity and innovation.
The opening ceremony of the new showroom was hosted by Zaza Okuashvili, Founder of Omega City Group, followed by a speech by the Honorary Guest Antonio Enrico Bartoli, Italian Ambassador to Georgia, and Saverio Campiglia, Maserati Regional Manager in Eastern Europe.
A full line of Maserati cars was presented during the grand opening along with several exclusive models: Quattroporte, Ghibli, Levante and GrandTurismo. Guests had the opportunity to visit the exquisite elegant showroom, arranged in accordance with Maserati's highest standards.
The goal of the project is to develop the automobile market, implement European standards and establish innovative trends in Georgia.
"I am glad to present the new showroom of Maserati, because it is the image of Italian elegance and the combination of beauty, innovation and tradition. I think it is a piece of art in the sense that it is still hand-made, making each car unique. Moreover, it is a good sign for Georgia in terms of development. Of course, there is an issue with inclusive growth, but having high-end products on the market marks progress for the country", said Antonio Enrico Bartoli, Italian Ambassador to Georgia.
"We are here today with Maserati for the grand opening. The investment in Georgia from UK via Omega Group amounts to 50-60 million pounds over the last 5-6 years, and we are here to support Zaza Okuashvili for the opening of first Maserati Showroom in Georgia", said David Heath, Owner of David Heath International.
"Maserati is a symbol for passion and art, and the opening event is a big achievement not only for the Omega City Group, but also Georgia. I am glad to see Georgians being passionate about high-end cars and wish good luck to everyone", said Harvinder Handa, General Manager Export at Comline Auto Parts.
About Omega Motors Group
Omega Motors Group is one of the largest companies in Georgia, founded by Zaza Okuashvili, offering automobiles, full range of spare parts, accessories and services to customers. Today, Omega Motors Group is one of the market leaders and officially represents several international brands in Georgia, including BMW and MINI, General Motors, Maserati and Bentley. In the near future, the company plans to present Cadillac and Rolls-Royce to the market.
About Maserati
Maserati, a tradition of innovation, is an exclusive Italian automative manufacturer, founded in Modena in 1914. The cars are characterized by elegance, sophistication, sportiness and performance, with a long and glorious heritage. At present, Maserati is represented by five modes: Ghibli, Quattroporte, Levante, Gran Turismo, Gran Cabrio. Maserati is the world's leading brand in the luxury segment, with its unparalleled comfort and unique capabilities.
By Anna Zhvania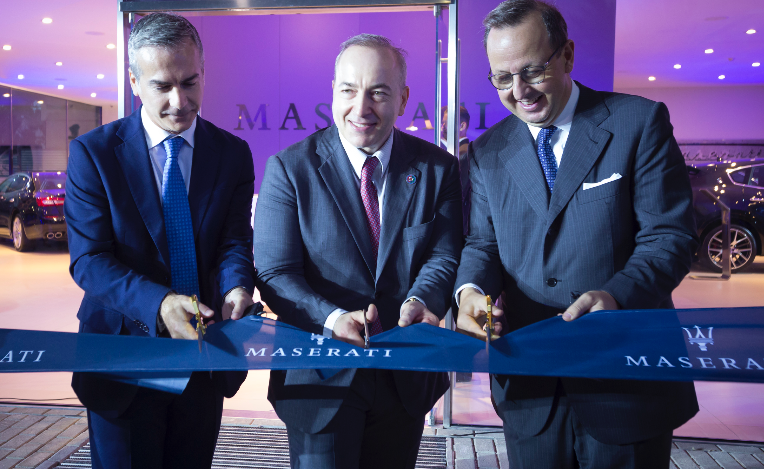 09 July 2018 13:02