EU Extends Sanctions Against Russia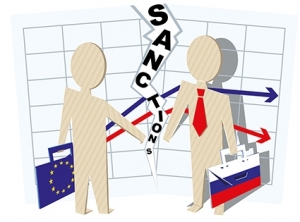 Four years since Russia's illegal annexation of Crimea, the issue of sanctions against Moscow is more topical than ever.
The European Union has extended economic sanctions against Moscow by six more months, due to actions related to its annexation of Crimea and backing of pro-Russian rebels in eastern Ukraine
"On 5 July, the European Council prolonged economic sanctions targeting specific sectors of the Russian economy until 31 January 2019. This decision follows an update from President Emmanuel Macron and Chancellor Angela Merkel to the European Council of 28-29 June on the state of implementation of the Minsk agreements, to which the sanctions are linked," a press release published by the European Council (EC) stated.
This decision came into force on 9 July 2018.
Sectorial sanctions against Russia, initially levied on July 31, 2014, which targeted the financial, energy and defense industries, as well as dual-use goods. Economic sanctions particularly restrict access to the EU's primary and secondary capital markets for five Russian financial institutions and their subsidiaries founded outside the European Union, in which the state holds a majority stake, as well as for Russia's three biggest energy companies and three defense companies.
Sanctions also impose an embargo on weapons trade and ban exports of dual-use goods for military purposes to Russia, as well as restrict Russia's access to certain strategic technologies and services that may be used for oil exploration and production. There are also two sanction packages which concern the Ukrainian crisis. One of the packages includes restrictive measures against 150 Russian individuals and 38 entities. This particular package will expire on September 15, 2018, but can also be extended for six months
The Minsk agreements, a deal reached to end the fight in Ukraine's Donbass region, were intended to be implemented in December 2015.
"The duration of the sanctions was linked to the complete implementation of the Minsk agreements by the European Council on 19 March 2015, which was expected to take place by 31 December 2015. Since this did not happen, the sanctions have remained in place," the EC press release stated.
Another sanction package that was implemented relates to Crimea. It includes a ban on importing Crimean goods, making investments in Crimea, including real estate purchases, financing businesses, providing services, particularly in the tourism industry. European vessels are banned from entering Crimean ports, while European aircraft are prohibited from landing at Crimea's airports, except for emergency reasons. These measures have been extended by 12 months.
Relations between Russia and the West have continued to deteriorate, and with the US adopting its "Countering America's Adversaries Through Sanctions Act" in August 2017, a range of new sanctions came to be. Among other things, these strengthen existing restrictions on cooperation with Russian defense and energy companies, and penalize individuals and businesses not previously targeted, such as oligarch Oleg Deripaska and aluminum producer Rusal. More US sanctions are expected over the coming months.
By Shawn Wayne
09 July 2018 18:08