Hospitality Turned into a Family Business in Juta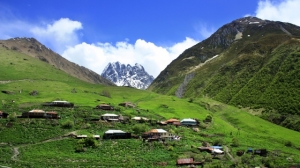 In Kazbegi municipality, the village of Juta, has within a few years become a popular destination for tourists and hikers. As such, the Arabuli family who runs a huge part of the business there, decided to build a two-story building suited to hosting fifteen people.
They had enough to cover the costs of building the hotel but knew that more was needed to draw guests and, thanks to the EU's European Neighborhood Program for Agriculture and Rural Development (ENPARD) and Kazbegi Development Group, the Arabuli's daughter, Tamar, was able to provide "Georgian hospitality", i.e. unforgettable experiences and comfort for tourists. Thanks to the EU funds, the family purchased new kitchen equipment, beds and other provisions of the hotel.
"The training carried out with EU ENPARD support was very useful and helped me a lot," Tamar said.
The family now needs to attract guests by creating a website and promoting their hospitality business.
By Antoine Dewaest
Photo: by Levan Gokadze
13 July 2018 15:03