Winery By & For Women Gets EU Support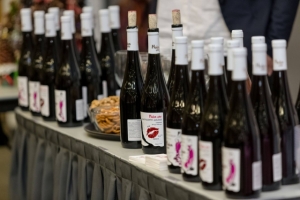 Madamwine is a Georgian wine venture created by female entrepreneurs. It is the first winery in Georgia that is entirely created and run by women. The company boasts that its founder, managers, wine technical specialists, and all its employees are women.
Madamwine was founded in 2010 by Manana Akhvlediani with the mission to create products for women. Their website puts a decidedly feminist foot forward, reading, "research shows [that] the role of women today has increased much in all spheres. It is well-known around the world that women are considered the best winemakers (enologists). However Georgian people, in many centuries and years, thought that this job is only for men and there is only men's prerogative to create alcoholic beverages. [Madamwine] dared to break this stereotype." The winery's core is a group of women united by their love of winemaking and "whose nature is similar to this divine drink." Madamwine draws similarities between wine and women, seeing in both "a coquetry, playfulness, fun, severity and mysteriousness." Madamwine has two product lines, Traditional and For Women, both of which produce wines using traditional Georgian grape varieties. The For Women line gives its blends fun names such as "Lovely woman," a semi-sweet red, "Coquette," a semi-dry red, and "Housewife," a dry red.
The enterprise is supported in part by EU4Business, an EU initiative which boosts the growth of small and medium-sized businesses by improving their access to financing and new markets. The initiative targets female entrepreneurs and projects in green energy. The winery plans to broaden its online marketing strategies with the support of EU4Business.
Madamwine describes itself as a "company which tries to provide the Georgian wine to the whole world, seen by eyes of the Georgian women. Plans are big, beautiful and endless, like the female phenomenon."
EU4Business explains that as Madamwine is a small company, it does not have its own production line, but has taken part in many domestic and international exhibitions. The company has exported its wines to South Korea, Japan and Hong-Kong.
The company is focusing on online marketing to attract new customers and international investors. EU4Business gave the winery financial support and connected them with a leading IT advisory firm to develop its concept and website design, and to integrate social media channels.
Akhvlediani has further plans to build a winery and actively participate in wine tourism.
By Samantha Guthrie
Photo: Madamwine, Facebook
16 July 2018 13:33