New Minister Names Georgia's Main Economic Challenges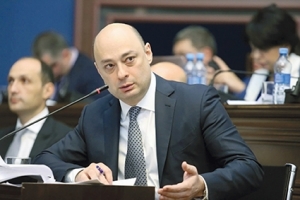 Georgia's new Minister of Economy, Giorgi Kobulia, has named the main challenges that hinder the development of the Georgian economy.
Kobulia, who was working for global consulting company McKinzie for two decades, says one of the top challenges is that small and medium businesses (SMEs) in Georgia are not developed enough.
"In order to accelerate the pace of economic development, more people should be involved in economic activities. It is necessary to develop small and medium business, and in this area there are significant challenges in Georgia," he stated in Parliament.
The new minister believes that better access to credit for small and medium-sized businesses will promote their development.
In addition to this, Kobulia says it is necessary to accelerate the level of industrialization.
"We have foreign investments, including in infrastructural projects, but we need more. Industrialization is one of our priority directions. Without development in this field, we cannot move our economy forward," he stated.
Development of the regions is another challenge listed by the Minister. He said the Ministry of Economy will work together with Ministry of Agriculture to help develop the agricultural industry further.
Kobulia underlined that Georgia is often referred to as a logistics hub but noted that little has been done to develop and use the full potential the country has in this sphere.
He believes that human resources, people's education, and skills should also be developed, adding the State should help people increase their knowledge and advance their skills in order to increase their income.
According to the Minister, Georgia cannot exist only by developing the local market.
"We need to focus on export and enter new markets. Therefore, integration with export markets is very important. Steps have been made in this direction, but there is still much to be done," he added.
Kobulia highlighted that Georgia's economic indicators are impressive, but despite that, the economic income that Georgia creates per capita is very small.
"In 2017, economic growth was 5%, and in 2018 it is 7.5%, which is a very good figure. In addition, employment has significantly increased, as have investments, but according to the World Bank, Georgia remains in the list of poor countries, something which needs to be changed," he said.
"This can be explained by the fact that despite good growth, the economic income that Georgia creates per capita is very small. Our situation in this regard is 10 times worse than in the leading developed states," the Minister added, noting that in order to improve the living conditions of citizens, it is necessary to employ as many people as possible.
Kobulia and two other new ministers were nominated by the Prime Minister Mamuka Bakhtadze last week.
The PM noted that Kobulia has experience in the development of the global economy and in the field of energy. He stated his confidence that the new minister will be able to cope with the existing economic challenges in the country.
By Thea Morrison
16 July 2018 15:40