Despite Russia-Georgia Economic Contacts, Relations Will Remain Strained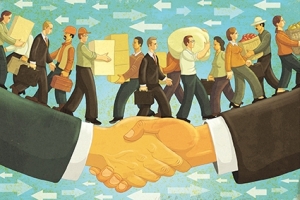 In December 2017, Tbilisi signed a contract with a Swiss company, known by its acronym, SGS, to monitor the Abkhazia and Samachablo (the so-called South Ossetia) trade corridor, one provision of the 2011 deal. In late May 2018, Moscow followed suit. The initiative involves linking Russia and Georgia via a trade corridor through South Ossetia, a faster, wider and, in winter, safer route than the Kazbegi-Upper Lars mountain pass over which most cargo between the two countries travels today.
The agreement comes on the 10th anniversary of the 2008 Russia-Georgia war and after almost three decades of separatist conflicts in the regions of Abkhazia and Samachablo. Despite geopolitical differences between Russia and Georgia, trade between the breakaway territories and the rest of Georgia has in fact increased. Even the European Union has begun testing options for opening the free trade agreement it has with Georgia to Abkhaz businesses.
In some respects, the agreement on trade corridors would be beneficial for Samachablo, the Russians and, most notably, Armenia, which has only one access route to Russia through the Georgian territory would likely enjoy some economic dividends.
Trade has been rising since 2015 at the only crossing for motor vehicles between Samachablo and Georgia proper, connecting Akhalgori to the Mtskheta-Mtianeti region of Georgia. In 2017, trade increased: and a large number of trucks passing through became common. An average of 20 trucks per day passed through the checkpoint to deliver goods from Tbilisi to the breakaway territory markets. Georgian commodities, despite costing 2-3 times the price in Samachablo, are nevertheless much cheaper in comparison with products imported from Russia. Just to give approximate numbers for ongoing trade: 1,500 tons of cargo reach Akhalgori per month.
As to the Abkhaz side, according to the Abkhaz authorities, 150 tons of commercial cargo cross the conflict divide daily, in both directions. The freight's annual value ranges from $7 to $15 million, according to International Alert studies conducted in 2010-2015.
The new trade route initiatives are clear, but there are many problems, among them the unwillingness on the part of any interested parties to compromise the territories' political status. Moreover, as will be shown below, differences between Tbilisi and Moscow are in fact so wide that any fundamental progress in bilateral relations will be unlikely to follow.
Georgia-Russia: A Bird's Eye View
This economic activity might be taken as a sign of gradual improvement in the bilateral relations of Georgia and Russia. However, when compared with the geopolitical constrains hindering any improvement, it is clear that Moscow and Tbilisi share some fundamental differences in foreign policy.
Georgia's intention to integrate into the EU and NATO goes against Russian interests. I have written before that for Russia, Georgia's NATO aspirations are problematic, but integration into the EU is far more crucial and long-term for Russian decision-makers.
Russians fear that there is a definite shift among the Georgians towards the benefits of the European economy, education and military capabilities.
Tbilisi and Moscow might sincerely wish to improve bilateral relations, and there are reasons for this. The resolution of security issues in the light of terrorist activities in the region would benefit both countries. Economic prospects, as noted in the beginning, too might drive the countries to work more closely. However, beyond that, it gets difficult to ascertain any additional factors for cooperation.
Russia's military strategy does not have any room for Georgia's NATO/EU integration. Moscow wants Tbilisi to reverse the course of its foreign policy – a nearly impossible task for any Georgian government as it would result in a public backlash, strong European and US reactions and overall geopolitical ramification in the region.
Thus, economic cooperation is important, but not so crucial as to cause Georgian-Russian relations to improve significantly.
By Emil Avdaliani
16 July 2018 15:46