Kazakhs Buy over 11,000 New Cars This Year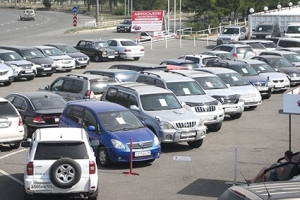 Kazakhstan citizens have spent out $265.5 million on new cars so far this year, claims KazAvtoProm.
According to the results of the first quarter of 2018, official dealers sold 11,281 cars, which is 49% higher than the result of a year ago.
In the first three months of this year, Kazakhstanis spent $ 265.5 million on new cars, 44.8% higher than in the first three months of 2017.
Sales in March this year (4,086 units) exceeded last year's value by 50.6%. The volume of the market in value terms for March reached $95.5 million, exceeding the indicator of a year ago by 37.6%.
The rating of the most popular brands with the Kazakh people is led by Lada in the first quarter of the year: for the three months of this year 2644 Russian Ladas were sold on the territory of the republic. Sales of Toyota models stand at 2164 units so far. The third position was taken by Ravon, with 1386 cars sold. The top five leaders are Hyundai (1281 units) and GAZ (601 units). The top 10 most successful brands also included KIA (547 units), Nissan (399 units), JAC (259 units), Volkswagen (250 units) and Renault (245 units).
By Dimitri Dolaberidze
16 July 2018 15:47