EU Assists Georgia In Improving Airline Passenger Data System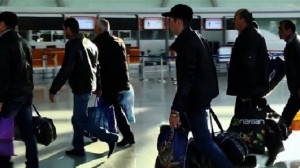 On July 16-17, an inter-agency working group met in Kakheti to discuss ways to enhance automated processing and analysis of passenger data provided by airlines in Georgia.
During the two-day workshop, representatives of the Revenues Service, the State Security Agency of Georgia and its Operational Technical Agency, and departments of the country's Ministry of Internal Affairs dealt with the challenges currently faced by the Georgian government in the implementation of an efficient API/PNR system.
The Advance Passenger Information (API) combined with the Passenger Name Record (PNR) is an electronic communication system that collects biographic data from passenger's passports. It enhances the way to control and check identity in the context of immigration and terrorism.
The participants agreed on a blueprint and made other agreements in order to facilitate efficient cooperation with airlines which propose routes to Georgia.
By Antoine Dewaest
Source : EU Neighbors
Photo : European Union
20 July 2018 14:24