Entrepreneurial Market in Bakuriani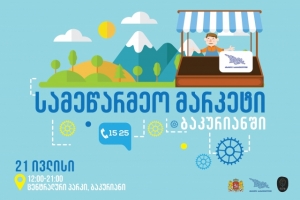 The first Entrepreneurial Market will be held in Bakuriani on July 21, with the aim of popularizing products of Georgian entrepreneurs. The project will be held throughout Georgia from July 21 to November 8, within the framework of 'Check in Georgia' project 'Pudzeoba', a regional-folklore festival.
The event will take place from 12 pm to 9 pm at Bakuriani Central Park. Entrepreneurs will present a vast choice of unique products for locals as well as tourists. These include products manufactured in Georgia such as textiles, accessories, confectionary, food, alcoholic beverages, tea, home décor and etc. Food trucks and a specific space for a children will be present.
Guests will have the opportunity to taste a variety of food, buy local products and establish important relationships with local producers for future cooperation.
Facebook Event: Entrepreneurial Market in Bakuriani
By Anna Zhvania
Source and Photo: Enterprise Georgia
20 July 2018 15:26