Georgian and French Producers to Start Filming First Joint Animation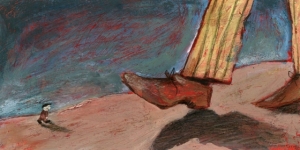 Ana Chubinidze is a young book illustrator who recently worked on the six minute long animated cartoon "Pocket Man", a Georgian-French collaboration.
According to the illustrator after spending five years illustrating children's books, she decided to write her own. The idea for "Pocket Man" was born after she saw her husband's sketches.
"It inspired me greatly and I decided to write a story titled "Pocket Man". It is about a small man named Edgar who lives in an old suitcase.
One day an elderly blind man accidentally crashes into the suitcase, opening it. They quickly become friends and Edgar soon finds a new home in the blind man's pocket, becoming his guide," the artist said.
After the Georgian National Film Centre announced a funding competition to develop short animation films, the couple decided to participate. However the project did not go through.
Later Ana Chubinidze, the artist, decided to participate in a five day workshop supported by the GNFC.
Her project was then selected to be presented at the Annecy Film Festival, the first Georgian project to do so.
Ana stated that "Despite the fact that I had no experience in this field and that I presented myself and my project naturally, without pretending, the presentation came out successful."
When French animation studio Folimage became interested in the project they decided to finance "Pocket Man" as a short film.
Work on "Pocket Man" will start in Georgia and then be passed onto France six months later.
The end result will be the first animated film jointly produced by Georgia and France.
Nina Ioseliani
05 September 2015 16:08