Occupied Tskhinvali Lifts COVID Restrictions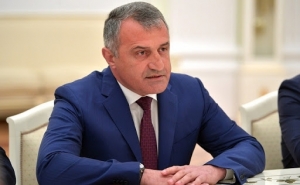 The RES news agency has reported that all restrictions imposed on mass events, including celebrations, funerals, and memorials, due to the coronavirus, have been lifted in the Russia-occupied region of Tskhinvali.
The de facto information committee has said the relevant decision was made at a meeting of the operational headquarters, chaired by de facto President Anatoly Bibilov.
"It was the right decision to resume the educational process in schools. Today it is possible to remove the restrictions on holding mass events. There is no doubt that necessary sanitary measures are being taken in all institutions and organizations," Bibilov said.
Since the beginning of the pandemic in occupied Tskhinvali, 2,901 cases of coronavirus have been confirmed. The virus has claimed the lives of more than 60 people.

Georgia continues to lead a COVID-restricted life, although the measures taken are now lighter. While public transport and all types of shops have reopened, and the schools are due to open on Monday, the nationwide night curfew is still in effect.

By Nini Dakhundaridze
11 February 2021 00:36