GGF & Crystal to Expand Energy Efficiency Financing in Georgia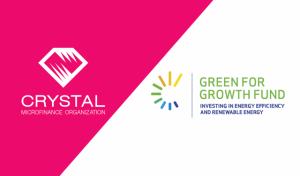 The Green for Growth Fund (GGF) has provided a senior loan of $1.5 million to new partner JSC MFO Crystal (Crystal) to expand green energy lending in Georgia.
The largest microfinance organization in the country, Crystal primarily serves microentrepreneurs and farmers, with a strong focus on rural clients. The institution is also unique among microlenders in Georgia for its keen interest in addressing the need for energy-efficiency improvements among this client group: Crystal has been substantially ramping up its portfolio of green energy products and last year pioneered financing for solar energy systems in remote areas.
This strategic focus on energy-efficiency financing makes Crystal an ideal partner for the GGF's mission to reduce energy use in the region. The new GGF funding will boost Crystal's capacity to help households and farmers improve their carbon footprint and save energy: Measures financed through the loan are expected to result in annual primary energy savings of over 2,600 MWh and reduce CO2 by approximately 910 metric tons per year. The GGF will also support Crystal in measuring and promoting green impact, developing energy-efficiency products, and raising green energy awareness among its client sector.
"We are very pleased to be working together with Crystal to promote energy efficiency among this important target group," said GGF Chairman Olaf Zymelka. "Crystal's strong position as a provider of green energy financing makes it a highly valuable partner in increasing outreach to microbusinesses, farmers, and households, and thus ultimately to advancing the GGF's mission to enhance energy efficiency in the region."
"This facility will enable Crystal to further expand its green portfolio, underpinned by our good distribution network and increasingly popular green solutions for micro and small businesses, small-holder farmers and households," said Archil Bakuradze, Crystal's Executive Chairman. "We are delighted to partner with the GGF, drawing on their leadership and invaluable expertise, especially in the domain of measuring the environmental impact."
ABOUT THE GREEN FOR GROWTH FUND
The Green for Growth Fund invests in measures designed to cut energy use and CO2 emissions and improve resource efficiency in 19 markets across Southeast Europe, the Caucasus, Ukraine, Moldova, the Middle East and North Africa. The fund provides financing to local partners that on-lend to enterprises and private households, and it invests directly, primarily through the contribution of senior debt, in renewable energy projects. The GGF's Technical Assistance Facility maximizes the fund's investment impact through support for capacity building at local financial institutions and partners.
The GGF was initiated as a public-private partnership in December 2009 by Germany's KfW Development Bank and the European Investment Bank, with financial support from the European Commission, the German Federal Ministry for Economic Cooperation and Development, the European Bank for Reconstruction and Development, and the Austrian development bank OeEB. The fund's growing investor base comprises donor agencies, international financial institutions and institutional private investors, including the International Finance Corporation, the Dutch development bank FMO, the German ethical bank GLS, and Church of Sweden. The GGF is advised by Finance in Motion GmbH. MACS Management & Consulting Services GmbH, Frankfurt am Main acts as the technical advisor.
ABOUT JSC MFO CRYSTAL
JSC Microfinance Organization Crystal ("Crystal") is the Georgia's largest microfinance lender with more than 80,000 customers, 59 branches and service centers and a loan portfolio in equivalent of EUR 90 million. Headquartered in Kutaisi, a regional city in the Western Georgia, it has a strong outreach in the country's rural areas. Its main products are micro business loans (43%), agro loans (25%), housing loans (16%) and household/other loans (16%). Crystal maintains the credit rating B from Fitch Ratings.
23 July 2018 15:51