Saknakshiri Administration Officials Sacked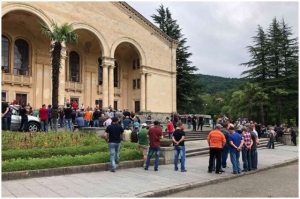 Vakhtang Chkheidze, the General Director of Georgian Industrial Group "Saknakshiri" dismissed the Deputy Director Gia Karkashadze, the Director of Production Akaki Akhvlediani and the Chief Engineer Gizo Kikitadze. Imedinews confirms the information about it. As for Jambul Jakeli he will resign after the research and technical works are done in the company.
The miners demand to participate in the selection process of the head of the administration and they have started a protest action in Tkibuli this morning.
The Tkibuli Shaft tragedy occurred on July 16. As a consequence 4 workers died and 6 got injured.
After the tragic accident the government decided to close the Tkibuli shaft until the investigation is over.
According to the primary information the shaft ceiling collapsed due to the methane explosion. The foreign experts are also involved in the investigation.
By Mariam Kukhilava
23 July 2018 17:02