Element Construction Builds for Coca-Cola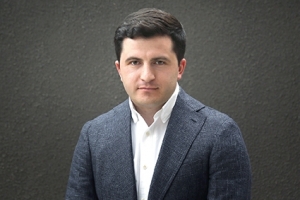 A new production unit of Coca-Cola is soon to be opened in Georgia. Element Construction, with 10 years' experience in the field, initiated the project. The construction company has already implemented numerous interesting projects, but the upcoming production unit will be the largest-scale one, not only for the company, but also for Georgia. GEORGIA TODAY talked to Giorgi Kozauri, General Director of Element Construction, about the project and future plans of the company.
What is unique about this project and why it is important both for Element Construction and the country?
This project is vital because it is a new stage for the company's development, as opposed to the projects implemented by Element Construction so far. I'm confident that the successful implementation of this project will lead to many new and interesting opportunities. The industrial unit will be moved from one of the central neighborhoods of Tbilisi to the outskirts, significantly unloading the Tsereteli Avenue and positively reflecting the ecological development of the city. New jobs will be created for residents of the surrounding area, during the construction process and in the following stages.
Tell us more about the project
The first stage of the project consists of 18,200 square meters of industrial and warehouse space, an administrative unit, laboratory and other technical space areas. The second phase includes the building of a 15,000 m2 terrace, including drainage and parking, plus a new 2,000 m2 office. Georgian specialists worked on the architectural and technical part of the project. Mobilization works are currently completed and construction processes are underway. The deadline of the project in accordance with the contract is March 1, 2019.
The construction market is becoming more diverse. How is Element Construction distinguished from its competitors?
In the last several years, I have witnessed a lot of construction companies reaching a high level of development, but being unable to keep up; unable to survive the challenges of modern times. The difference between these companies and Element Construction is that we are on a solid basis, therefore our team vision is a result of development, reflected in our 10 years' experience. Our approach can be seen in the processes and system improvements within the company, high quality communication with customers and optimization of projects. Consequently, most of our customers are those who have already worked with Element and have come back to us. We have other categories - customers who come in as a recommendation, and this leads to the company's performance and uniqueness.
What path did you take for success?
In 2007, the company started to operate on industrial floors. In 2010, the company took its first construction project and in 2014-2015, we took part in such projects as Biltmore Hotel in Tbilisi, Retail Center Merani, Kintrishi Hydro Power Plant and others. After successful completion of these projects, we decided to re-brand the company and develop the direction of construction in 2016. We witnessed a huge increase in the last two years; the current projects cost about GEL 30 million, a value three times higher than the previous years. Despite this, I would say that it is too early to talk about big success, as there are more interesting and important projects ahead for the company's development, which must be successfully completed!
What type of services do you offer customers?
'Element' services are quite diverse. We offer clients design, construction, renovation, industrial construction and industrial floors. Of course, we aim for precision in every element.
What is the advantage of Element Construction?
Besides the fact that we are continuously trying to implement projects in quality, i.e. within the planned budget and time, we constantly strive to provide high quality communications with the customers and the involved engineers and technical personnel. This allows customers to actively be informed about ongoing issues and, in turn, is eventually reflected in their satisfaction.
Who is your target market?
We mostly operate on the construction of civil and industrial buildings, therefore, at this stage, we do not focus on infrastructural projects and we are less likely to take part in state tenders. Most of our projects are private orders: individual houses, multi-complex houses, factories, and hydro power plants.
Does Element Construction incorporate Social Responsibility and what do you do in this regard?
Yes, we started working in this direction this year, mostly in terms of education. We signed a Memorandum with the Georgian Technical University to employ students as interns in our company for further employment. This implies both practical and theoretical experience. I think this is a bilateral benefit for both the company and society. We are planning more interesting initiatives for the future.
What are the challenges in the construction sector today and how does Element Construction overcome them?
The first thing I would list is unhealthy competition. There are several thousand registered construction companies in the country. Some companies, with no relevant experience, participate in private tenders. Their approach towards safety standards and quality is lacking, which is why they offer services at lower prices. Inexperienced customers base their decisions solely on prices, which negatively affects the construction market and its development. As a result, many private or state buildings are suspended and projects initiated due to low-cost cannot be completed. We therefore refuse many projects, because we never compromise quality at the expense of cost.
'Precision in All element' – What is the meaning behind your slogan?
This is exactly the approach the management and personally I have to protect: the accuracy in each detail and element. As a result, we pay the same attention to every detail in our employees, because any job, just like construction, consists of many elements. The construction process is a chain: if one element is left out, a part of the chain cannot be completed. Therefore, we try to keep all elements protected and preserved.
Tell us about your future plans
Along with the development of our company's system, our long-term plan is to obtain an ISO certificate, which will document the functioning of the system. In addition, we have two expat employees in our team, one from Iran and one from the US. We believe that in terms of global competition, bringing foreign engineers, technical personnel and experience to the Georgian construction market will benefit both our company development and the qualifications of local staff. In general, given that there is a lack of qualified staff in the country, it is vital to share new technologies, knowledge and approaches within the company. Of course, it is necessary and imperative for the company's management to be open. We are going to actively work in this direction. The above-mentioned experience will help us in our long-term plan to expand on a regional scale.
By Anna Zhvania
23 July 2018 19:01