Partnership Fund Delegation Visits China to Discuss Investment Potential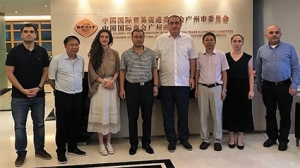 The delegation of the Partnership Fund took a business trip to the People's Republic of China. The delegation, under the guidance of David Saganelidze, Executive Director of the Fund, was invited by the Chairman of the Technology Market Development Association of the Republic of China Reforms and Development Committee.
The Partnership Fund delegation held business meetings in the town of Shenzhen, Guangzhou Province. Within the framework of the official visit, the delegation of the Foundation met with the Chairman of the International Association for Economic Relations and Trade Development in Shenzhen. The Association incorporates big business companies of the Guangzhou Province of the People's Republic of China and hosts worldwide international-level forums and conferences. It also consults Chinese companies in various directions.
The International Association for Economic Relations and Trade has expressed interest in presenting specific investment proposals in technologies. Moreover, it plans to petition large businesses operating on the Chinese market to participate in investment projects in Georgia.
The memorandum of mutual agreement was signed between the Chairman of the Technological Market Development Association and the Executive Director of the Partnership Fund, which will further cooperation and trade economic relations among the parties. On the Partnership Fund's initiative, the Representative Delegation of the Technological Market Development Association proposes to study Georgia's investment environment and plans to visit Georgia in the autumn to present specific projects.
Within the framework of the visit, a meeting was held with 'Shenzhen Appotronics Technology,' the biggest Chinese company in Shenzhen. The company exports its own products to the US and Europe. The sides discussed prospects for future cooperation. The Fund's delegation introduced Georgia's investment potential and emphasized the free trade relations of the country with the world's leading markets. After the meeting, Chinese companies asked about the process of production in Georgia.
During the visit, business meetings were also held in the representative office of the Partnership Fund in Guangzhou. The meeting was attended by the supervisors of the 'One Belt One Road' project. The parties discussed ways to implement joint projects.
The Chinese side expressed serious interest in Georgia's investment opportunities. It also emphasized the importance of Georgia in order to deepen economic and trade relations in the One Belt One Road project.
The official visit of the Partnership Fund's official delegation included Giorgi Daneloa, Head of Investment Department, Levan Kvernadze, Head of Research and Analytics Department of the subsidiary 'Field Development Company' and Tsisia Panchvidze, Fund Representative.
By Anna Zhvania
23 July 2018 19:03