Interview With A Billionaire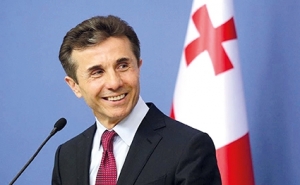 Known as Georgia's richest man, Bidzina Ivanishvili is someone to whom people seem to listen, especially when he appears on television.
During his latest interview on Georgia's Channel One, the billionaire and ex Prime Minister stated that the country's gross domestic product per capita has tripled, making the EU membership dream a reality, and said he hopes voters "stay with him" for at least the next 12 years.
Even after Ivanishvili officially retired from politics in late 2013, he has continued to have influence on the Georgian Dream party, being known as the "puppet master" behind the scenes of Georgian politics. Many people believe this places Georgia in a vulnerable position democratically. And what may have been speculation was made fact as Ivanishvilli was quite open about the influence he has had over the government and the ruling Georgia Dream party since stepping down as Prime Minister, however, he said it "hardly qualifies [me] as a puppet master working in the shadows."
Ivanishvili also admitted to his participation in selecting former Prime Minister Giorgi Kvirikashvili's replacement, Mamuka Bakhtadze.
"They are confusing informal governance with public oversight: the public put a degree of trust in me and I can use this trust at any moment and criticize any leader. We don't have extensive experience of public oversight in the government and I'm there to fill that gap," Ivanishvili told the Channel One audience.
Ivanishvilli has now returned to a formal role in politics as Chairman of Georgian Dream, leaving the role of shadow ruler behind.
"There was a serious risk of the team falling apart," he said. "I was watching this from the outside and, at a critical point, I realized that exercising remote control was not enough to keep the team together."
Ivanishvili also stated that he is not like former President Mikheil Saakashvili, who, as Ivanishvili put it, ran the whole show. "God spare us from governance like that!" he stated. "I don't want society and also you, the journalists, to believe that I'm doing everything and that I make all the decisions."
"Georgian democracy is developing so fast that the economy can't keep up with it," Ivanishvili said. He also claimed that he was not fully aware how bad the economy was faring because the government officials had hid it from him. "That was part of the reason Kvirikashvili had to go," Ivanishvili said. Kvirikashvili concealed the true state of economic affairs, such as citizens' overdependence on bank loans, "from me and society."
He said that Kvirikashvili disrupted the balance between state and business interests, using his tax policies to lobby for Georgian banks. According to the IMF, back in 2015, 68% of adults in Georgia had active loans, and 30% of these borrowers had already been blacklisted. Ivanishvili accused Kvirikashvili and Kumsishvili of attempting to hide this report from both him and the public.
"I was crestfallen for several days after I had found out that the economic situation had worsened for a certain part of society following Georgian Dream's rise to power," Ivanishvilli said, adding that he and the party confronted Kvirikasvhili over the economy at a June 12 meeting, and that the ensuing argument lasted three hours. The Georgian Dream Chair said it became apparent at the meeting that Kvirikashvili eventually had to go, and he did.
In his farewell speech on June13, Kvirikashvili cited these disputes on economic issues with the party leadership as the motive for his resignation.
In the televised interview, Ivanishvili was also asked about the uprooting and moving of giant, century-old trees to his new park, which left patches of green land near the Black Sea coast deforested.
"I know people are saying, 'what is wrong with this guy?'" Ivanishvili conceded, but added that it is only for the good of the people. He said he compensated farmers and the Georgian railway authorities for the interruptions that the movement of giant trees may have caused, but did not offer much of an explanation.
Another project that he defended was a real estate complex that is controversially under construction in and around capital Tbilisi's historic center, named Panorama, with several segments to be connected via cable ways. Ivanishili said that having a golf course a mere four-minute cable car ride from downtown will be a great asset to the economy, and he played down the impact on the rich architectural heritage of the city.
This interview had mixed reactions amongst Georgians. "We see a total evasion of responsibility for things that Ivanishvili is responsible for," stated member of European Georgia, Elene Khoshtaria, in comments to the channel. "He installs people to lead the government, vouches for their qualifications and then replaces them if the public is disappointed, without taking any responsibility for it," she said. However, Georgian Dream supporters were happy with their Chairman's interview.
By Shawn Wayne
30 July 2018 18:26