Delivering Pizzas on Ukrainian Front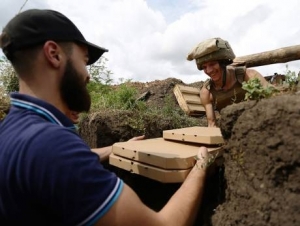 Since 2014, the civil war backed by Russia has led to a trench warfare between Ukrainian troops and separatists. Life there is hard, dangerous and lacking in good food.
Therefore, some veterans of the conflict decided to risk their lives by delivering pizzas to the trenches. "Eat up quickly, while it's hot and they're not shooting," says Oleksiy Kachko, opening a box of pizza while soldiers looking at him, amazed.
"The enemies are less than 80 metres from here. I reckon they can smell our pizza and their mouths are watering," Kachko says smiling.
Kachko, 23, is a former fighter from the Azov para-military group (which is accused of war crimes by Amnesty). Since May, he has run a pizzeria called Pizza Veterano in Mariupol, which employs mostly veterans who have fled the war. The first thing he decided to do in his business was to deliver pizza, 20km, to his "comrades" on the frontline.
After reaching an agreement with military command, and drawing a schedule, the pizzeria delivers 20 large pizzas once a week to the unit.
By Antoine Dewaest with AFP
Photo: AFP
09 August 2018 13:13