Flooded Highway and Tbilisi Zoo Partly Re-open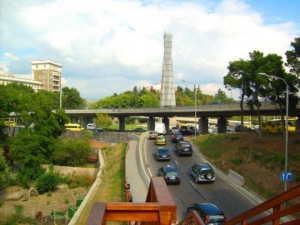 A section of the Mziuri highway, damaged by the June 13 disaster, and since closed, will be opened tomorrow.

Tbilisi Mayor David Narmania went to check the road today and speak to the press.

"We started restoration of the road following the clean-up campaign. Traffic will be able to move on a part of the road from 08:00 tomorrow," said Mayor Narmania, adding that the opening of the second part of the road is planned for September 15, with full restoration works set for completion by the end of the month.
The upper section of Tbilisi Zoo has also been re-opened with a photo exhibition to commemorate the event. At the re-opening ceremony, Zoo Director Zurab Gurielidze spoke of the future of the zoo, stating that new animals will be brought to Georgia in spring 2016.

The lower part of the Zoo (pictured) has not been restored as the Zoo is set to be relocated to the Tbilisi Sea area within the next three years.
Photo shows the Heroes' Square end of the Mziuri Highway and the lower bear enclosure of Tbilisi Zoo prior to the June 13 flood.
13 September 2015 21:31