New, Modern Tunnel Opens in Dariali Gorge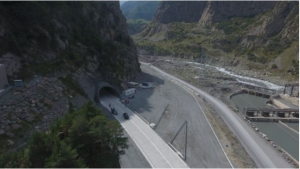 A new 2-kilometer-long tunnel has opened for vehicle traffic in Georgia's Dariali Gorge, near Stepantsminda. The tunnel has been under construction since May, 2017. The gorge has been strategically important to Georgia for centuries, and today is the only open land route between Georgia and Russia.
A statement from the Roads Department of Georgia, released on Sunday, said "The Dariali Tunnel is an unprecedented project for Georgia. A tunnel of such scale has not been built in the country since 1950, when the Rikoti Tunnel was built. There have been several [natural] disasters in the Dariali Gorge in last few years, and the possibility of another disaster has threatened movement on this part of the strategic road."
In the case of a natural disaster, such as an avalanche or rock slide, the Mtskheta-Stepantsminda-Larsi road is closed or traffic flows are severely obstructed, costly Georgia millions of lari a day. The new tunnel will prevent such incidents, and reduce the risk of driving on the highway between Georgia and Russia.
The tunnel's construction cost nearly 52 million GEL, financed by the state budget, and employed 140 people.
By Samantha Guthrie
Photo: Roads Department of Georgia
11 September 2018 11:43