Data Manipulation – a Propaganda Weapon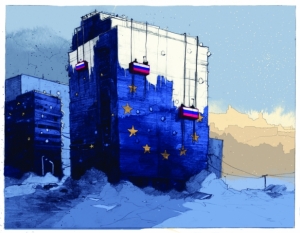 During the summer of 2017, Georgian, Moldovan and Ukrainian students participated in media literacy camps, which formed part of the Strengthening Independent Media project in Georgia, Moldova and Ukraine, and in partnership with Internews Ukraine, based in Kyiv; Internews Georgia, based in Tbilisi; and the Independent Journalism Center, based in Chisinau. The trainings were initiated from September 9, 2016.
The trainings aimed to increase citizens' access to reliable information about local, regional, and international issues of public importance by supporting the independent media sector. The project included components exclusively concerning young people: the media literacy camps and a discussion club called European Café, organized at different venues throughout Moldova, Georgia and Ukraine.
As the project wrapped up at the end of last year, Angela Sirbu, Project Director of the Strengthening Independent Media in Georgia, Moldova and Ukraine project lamented the fact that there was no funding allocated for media literacy work in Georgia in 2018. She added that her team is "actively looking for ways to continue this type of work because it is needed, it has an impact, and it's hugely rewarding for everyone who participates in it."
Georgia is a target for fake news from northern neighbor Russia. During the media literacy camps, "students...learn how to recognize quality media content as well as manipulative and fake news, and how to react if the press misinforms the public. To understand how different communication channels (social media, new technologies, etc.) can be used for self-expression and engagement in discussion," said Sirbu.
Infographics website Venngage recently published an article on the impact of fake news and how facts can easily be manipulated using skewed data visualization.
"In this post-truth era, graphs are being used to skew data and spin narrative like never before. Especially with the velocity at which some of these topics spread across social media. All it takes is a single graph from a less-than-reputable source, blasted out to a list of followers, to spread a false narrative around the world," the article reads.
It presents five ways data can be manipulated to mislead readers. Being data-literate is a crucial skill for young people to be able to independently evaluate the validity and trustworthiness of a news source. Combatting fake news and propaganda is one way young Georgians work to preserve their independence from a continually encroaching Russia.
By Samantha Guthrie
Photo: Politico Europe
Related Stories:
Combating Fake News: Training Students in Media Literacy in Georgia, Ukraine, Moldova
Georgian Foreign Minister: We Witness Creeping Annexation and Borderization
21 September 2018 08:59