Tbilisi's Sololaki Named among 50 Coolest Neighborhoods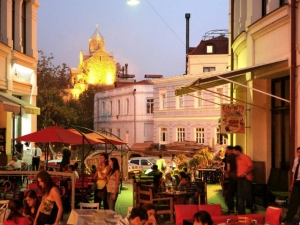 Time Out editors and experts have revealed the 50 neighborhoods in the world, which travelers should visit this year.
Along with the neighborhoods of London, Paris, Tokyo, Seoul, Strasbourg and many others, Tbilisi's Sololaki is also listed as one of the most attractive places to visit in 2018.
"Bars, restaurants and even clubs pop up in the neighborhood's countless courtyards, letting the locals (often artists and musicians) add their personal touch. Locals and travelers alike frequent the many whimsical apartments-turned-cafés, which often double as live music venues," the article reads.
It also says that visitors can experience Georgian polyphonic singing in the street, adding it is unlike anything else in the world, or see a performance on Sololaki's vibrant jazz scene.
"Sololaki is home to many famous landmarks and tourist attractions, its cobblestone streets maintain an air of mystery," the article says.
The media outlet gives recommendations to visit famous sulphur baths on Meidani Square, some of which are open almost 24 hours for late-night soaking.
It also suggests visiting the restaurant Ezo, which serves delicious, traditional Georgian dishes in one of Sololaki's characteristic Italian yards, or checking out the bar Zoestan, owned by a French musician who has lived in Georgia for over a decade, which is a comfortable, no-nonsense bar famous for live music, reasonable prices and quirky decor.
Read the full article here.
By Thea Morrison
Photo: Time Out
26 September 2018 10:15