China: New Economic Potential for Georgia?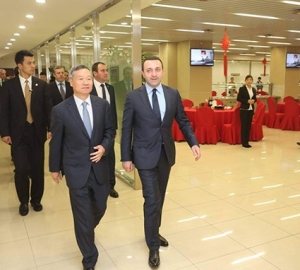 Earlier this week a Georgian delegation led by Prime Minister of Georgia, Irakli Garibashvili, visited China to meet with high-ranking officials and discuss potential close ties between the two countries.
The core goal of the visit was to boost the idea of the historical Silk Road which is expected to be able to considerably increase trade between China and Georgia. Moreover, the project can assist Georgia, which enjoys a key geographic location between the west and east, by allowing it to make use of its trade corridor potential.
The governmental administration has said Georgia will be the first country in the region to try deepening its relationship with China, one of the largest economies in the world. Intensifying relations between the two countries has been broadly discussed in the past.
Both sides referred to the importance of the "Tbilisi Silk Road Forum," established following the Georgian Prime Minister's new initiative. According to sources, high-ranking Chinese officials will be visiting Tbilisi in October.
Notably, trade flow between the two countries increased by 28% in 2014, making China one of the closest economic partners for Georgia.
Giorgi Kvirikashvili Georgia's Foreign Minister stated the Georgian delegation's visit to China was very successful. "The Chinese side expressed readiness to carry out large investments in Georgia. The PM put an emphasis on the significance of the region within the framework of the new project, which implies regeneration of the Silk Road," Kvirikashvili said, adding that China will support Chinese companies wishing to take part in the project.
The Georgian Government Administration also announced that a Memorandum of Cooperation was signed in Dalian, China, where PM Garibashvili met with representatives of the Dalian Locomotive & Rolling Stock Co., Ltd. CRRC Group, the largest Chinese company in the field of locomotive industry, expressing hope that the cooperation will further develop in the future. 
The Memorandum is aimed at establishing a joint enterprise in Georgia, which will produce locomotive engines, diesel generators, subway trains, electric trains, etc. and will be oriented to post-Soviet countries, including Iran, Turkey and Europe in a broader scope. 
It seems that China in terms of export potential for Georgia as well as a considerable investment opportunity can positively add to Georgia's recessing economy, which has fallen prey to the complex international economic context and local instabilities.
Steven Jones
17 September 2015 20:58