Interview with Professor Yongjun Huang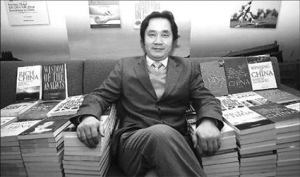 Georgia Today met Professor Yongjun Huang, CEO of Chinese President Xi Jin-Ping's Thought and Study Center, who came to Georgia last week to promote a mutual publishing project between Georgia and China. We met him in the cozy reception of Rooms hotel, Tbilisi. The interview was conducted with the help of his assistant and translator.
Q: What kind of collaboration have you come here to achieve?
A: We established Georgian Culture Press Ltd, dedicated to the publishing of culturally interesting material between Georgia and China. We want to translate Georgian and Chinese literature- fiction, non-fiction, prestigious works, official papers, speeches...
Q: Did you decide on this project as your own inititative?
A: Actually, the Chinese Prime Minister asked me to come as part of the works to renew Silk Road trade. The Silk Road covers land and sea and Georgia is a very important part of that transit line. The President of China announced his wish to renew the fellowship of Silk Road collaboration with 50 more countries along the traditional Silk Road.
Q: How well do the Chinese people know Georgia and its culture?
A: The majority know it as 'Stalin's country'. Yet they know nothing of the Stalin Museum in Gori. We expect to encourage many Chinese to visit Georgia with this cultural exchange publishing initiative. The climate here will be more comfortable for them that some European countries, particularly those from southern China.
Q: What trade potential do you see other than publishing?
A: Natural resources. The China National Development Bank is interested in mining and exploring Georgia's many natural resources.
Q: Has your visit here been successful?
A: When I return, I'll be meeting with the senior officials of the Culture Department to discuss mutual translations of Georgian and Chinese. With an exchange in literature two people can understand each other more closely and quickly. This is good.
Profile: PROF. YONGJUN HUANG, CEO of Chinese President Xi Jin-Ping's Thought and Study Center, was presented with the Grassroot Diplomat "Certificate of Excellence" for his work with the President of China and academic excellence in international culture and diplomacy. 
Professor Huang is an ambassador for the vision and future focus of President Xi Jin-Ping's thoughts for governing China, and for bringing change for a better world.
Katie Ruth Davies
17 September 2015 20:59