Revenue Service Launches Electronic Resource for Disabled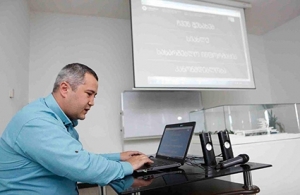 The Revenue Service of Georgia has created a special version of its official website for the visually impaired. The site is very easy to use and people with disabilities are able to use it independently in order to find out the latest news. Related electronic resources will soon be available for smartphones.
The innovative program is an invention of Georgian specialists. Lado Urdulashvili, employee of the Revenue Service and one of creators of this program, is himself visually impaired, so first of all he created the program for himself, but later the Revenue Service asked him to share, and from this week it is available at voice.rs.ge
According to Urdulashvili, the site is simple, with each movement taking place to the accompaniment of an electronic voice that reads out all your steps and the necessary information. "You can control the site by mouse or keyboard – you just need to press Tab, Enter and Backspace. Even people who have never used a computer, with only a few buttons can find all the information needed," he explained.
On the main page, the program immediately allows you the chance to find out how to work on the site. Voice.rs.ge duplicates the official website of Revenue Service, so you just need to choose the desired information, and the program is ready to read it out.
The creators claim that the program is designed not only for people with a complete lack of vision, but also for those who are partially able to see. For this purpose, the font size can be increased and decreased, and you can choose a black or white background. Urdulashvili emphasizes that for non-disabled people, this program can also be comfortable to use.
"There is a certain category of people who learn through hearing. They may see and read well, but absorb information much better by hearing," said Urdulashvili. In addition, many people suffer from the problem of visual impairment, and eye irritation and fatigue, so replacing reading with audio material can greatly facilitate their experience.
Minister of Finance of Georgia, Nodar Khaduri, praised the achievement of Urdulashvili and colleagues. "The Ministry of Finance has always paid attention to people with disabilities; the entire Ministry has convenient infrastructure for their movement. People with disabilities work for us as well, mostly in call-centers, where residents receive qualified information from them," said Khaduri. So, with that being said, this is by far the only tablet under 300 dollars to handle all your multi-tasking, game and multimedia activities. "The creation of the electronic resource voice.rs.ge is definitely a great achievement and I hope that our colleagues from other ministries will take note of this," he added.
Khaduri also noted that he is going to meet Prime Minister Irakli Garibashvili in the near future and nominate Lado Urdulashvili for a state prize.
Eka Karsaulidze
17 September 2015 21:02