Panorama Protest Continues as SAVE Weighs in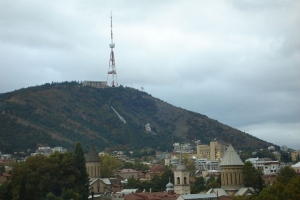 Leading British and international heritage organisations have sent a letter to the Georgian President and Ministers protesting against a so-called 'over-scaled' Panorama Project in Tbilisi.
SAVE Europe's Heritage has published a press release which highlighted that the new building projects in the city threaten to destroy its historic setting and has gathered signatures for a letter to be sent to Georgian President Giorgi Margvelashvili to protest the project. Panorama plans to build on the hillside overlooking Tbilisi and it is currently on the World Heritage Site's Tentative List.
"This project would desecrate one of the world's most beautiful cities," the press release said.
The organisation went on to emphasize that the new proposals will destroy the harmony of the city's 'natural setting'.
The letter from SAVE Europe's Heritage has been signed by more than 20 UK and international organisations, demonstrating the Europe-wide level of concern for this project and Tbilisi.
SAVE has sent a copy of the letter to UNESCO, who have confirmed that they have notified the relevant national authorities in Georgia regarding the issue.
There is also major local opposition from within Georgia- however they feel as if their voices are not being heard. Now with international involvement they can no longer be silenced.
SAVE Europe's Heritage Director Clem Cecil has said "Tbilisi could become one of the most visited cities in the world- it deserves to. Its unique character lies in the interaction between in the river and the hillside. This creates a backdrop for its rich architectural heritage. Panorama should not go ahead- it would be a catastrophic blow to Tbilisi's setting."
SAVE's Chairman, Marcus Binney, added " These hills, like the hills in Japan which are deemed sacred and never to be built upon, need to be protected as green zones, safeguarding them from the pressures from encroachment which come with prosperity and people seeking to build ambitious houses with commanding views. 'So far but no further' must be the motto of the new Tbilisi town plan."
Tbilisi is built in a bowl of hills on the Mtkvari River. The hills that are silhouetted against the skyline were placed under protection in 1975; Tbilisi's setting is an inextricable part of its character and significance.
In July 2015 planning permission was awarded to Georgian businessman Bidzina Ivanishvili to build a large-scale multifunctional complex on the hillside behind his palace. The palace was also built on public and protected land.
Panorama consists of two tower blocks and a series of multistorey terraces. The project has been approved by the Ministry of Economics and Sustainable Development, even though it runs counter to the zoning laws of the country. These laws state that national parkland is protected and is not to be built on.
Tbilisi's historic city- directly under the proposed Panorama site- is on the World Heritage Tentative Site List. This means that there is an obligation to give it the protection enjoyed by other World Heritage sites until a final decision is made.
The project is connected to four parts of the historic city by a series of cable cars. This will in effect create a city above a city, however this will dominate the old town in a spider's web of cable cars.
SAVE is currently working on a report on threats to Tbilisi's historic buildings and setting.
21 September 2015 14:18