Caucasian Cheese Festival Begins October 10th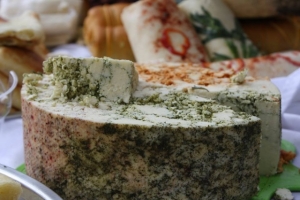 This October Tbilisi will host the "Caucasian Cheese" festival for 2015.
Different from the annual cheese festival on size and content, Rike Park will host participants from Armenia, Azerbaijan, Northern Caucasus countries as well as cheeses from all regions of Georgia, including Abkhazia and Ossetia.
Delegations from Israel and Turkey are also expected to attend the event.
"With this festival Georgia will be able to restore its cultural, agricultural, trade and industrial status in the Caucasus. And the Caucasian cheese will be given a chance to occupy its niche on the world's cheese markets," a statement on the event read.
On October 10th the festival will open at 10AM for participants in the many competitions and at 12PM for guests. The official opening ceremony will be held at 1PM with the winners announced at 5PM.
The following day between 11-5PM you will be able to buy some of the cheeses on offer and between 1-3PM there will be a competition between culinary schools. So don't miss out!
They are all waiting for you to come and try!
The festival will close with the rewarding of the winners in the various classes of cheese.
21 September 2015 17:23