Georgian Painter's Work to be Sold at Sotheby's Auction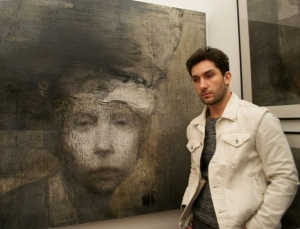 Young Georgian artist Levan Songulashvili's works are going to be sold at a Sotherby's auction. The 22-year old painter graduated from the Tbilisi Academy of Art and went on to study at the New York Academy of Art, founded by Andy Warhol. At the same Academy Levan became the enrolment board's top choice student, receiving a $7000 studentship.
Over the last 10 months Levan participated in a number of competitions and exhibitions, becoming friends with a number of ex-tutors and world-famous artists along the way. In summer 2015 he was selected by legendary American artist Jeff Koons to participate and work in several artistic projects at Koons' Manhatten studio.
At the Tibreca ball 2015 Brook Shields wished to buy on of Songulashvili's works, however it had already been sold. It is though Shields will return to the ball in 2016 in order to purchase some works.
Levan is popular around the world with one of his works, Jellyfish, to be shown in New York at Sotherby's. He already has many offers for solo exhibitions and is thought to be holding one in the near future.
Nina Ioseliani
23 September 2015 19:47