Interview with Sulkhan Khvedelidze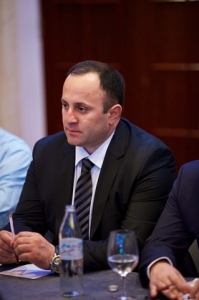 Q: Georgia hosted the International Business Forum of Ferro-Alloy and Manganese Producers. The forum is an annual conference which gathers producers and consumers of Ferro-Alloy and Manganese from various countries across the world. What was the reason for choosing Georgia as a host of Business Forum?
A: For the decades Georgia has been well-known in the global market as ferroalloys producer. The conference gave opportunity to Georgian producers to meet the world's leading companies operating in this business. Delegates visited local factories and were introduced production process. Within the framework of business forum, parties had face to face meetings, and started business negotiations.
Q: The Forum was hosted by all major companies operating in the heavy industry and dozens of guests arrived specially for this occasion. Who were the guests and which companies did they represent?
A: The conference was attended by the representatives of the largest companies operating in this field. Among them were: South-32 – part of famous Australian company BHP with actives amounting billions of US Dollars. The Eurasian Natural Resources Corporation (ENRC), whose number of employees counts more than 70 000. Russian Novolipetsk Metallurgical Plant, whose share of Russia's steel production is 21%. Trading companies like Ronly, which has been trading Ferro-alloy products since 1979 was also present at conference.
Q: Business Forum- Was this conference a challenge for Georgia?
A: This business forum was very important for Georgia, as smaller producers were given an opportunity to hold face to face audiences with the representatives of international companies. We discussed the ongoing processes in this field, exchanged and shared experiences. We hope that this business forum will be held in Georgia in future as well.
Q: Most of the population from the regions of Imereti and Rustavi are employed in your factories. What is the number of employees? What is the amount of taxes paid to state budget?
A: Up to 15 000 people are employed in this field in Georgia. Monthly paid taxes amount tens of millions of GEL.
Q: As we are aware Ferroalloys are the leading export products of Georgia. What is the share of ferroalloys in total export?
A: According to the statistical data, the share of Ferro-alloy products and manganese in total export is 10.7 percent. In terms of export the Ferro-alloys and manganese products hold the second place. The annual export volume is more than 700 mln GEL.
Q: Regarding the ferroalloys products, what is the determining factor of supply and demand?
A: The supply-demand is regulated by the world market. Steel industry is the major determinant affecting the supply-demand of ferroalloys products. Accordingly the increased demand on steel creates demand of ferroalloys products.
Q: This business requires constant investment. Can you explain the process? In which cases are the investments needed?, and why?
A: Ferro-alloy producing companies need continuous renewal of existing machineries as they are depreciable, for example, modern gas cleaning systems. Furthermore, supporting factories like foundry and mechanical shops require constant investment.
Q: Finally, what perspectives does Georgian production have and what does the increase potential depend on?
A: If we analyze general statistics, the companies operating in this field have an increasing growth rate, which indicates that Georgian production is progressing from year to year. In case of support, we have the resources to increase production, employ more people and of course increase our share in export.
24 September 2015 21:20