Ryanair 'Would Like to Come to Georgia'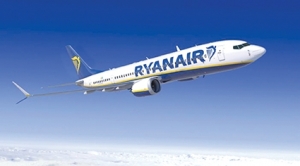 The CEO of the Irish budget airline Ryanair, Michael O'Leary, has stated that Ryanair "would like to come to Georgia," thus increasing the number of budget flights and destinations available in the country.
In an interview with Forbes, O'Leary confirmed that the airline had previously entered negotiations with Georgian airports but those airports did not offer the incentives desired by the airline. Nonetheless, he believes that the introduction of Ryanair flights is "inevitable" and will happen soon.
If Ryanair were to offer flights to and from Georgia, they would focus on central and eastern European flights as they "do not want flights to take 5-6 hours." They would open routes to cities with a flight time of up to 3 hours and where they believe there to be enough demand from customers. Flights would likely focus on routes in Poland, Germany, Greece and Italy.
The airport for Ryanair flights would depend on the commercial negotiations and which airport would offer the biggest incentive. Ryanair often begins flying from secondary airports. For example, 10 years ago in Germany they began flying to Hahn (near Frankfurt) and Bremen (near Hamburg). Due to the success, bigger airports approached Ryanair and the airline now operates in Frankfurt, Hamburg and Dusseldorf, as well as the secondary airports.
As Georgia continues to become a tourist hotspot, more airlines are opening routes to and from the country. Turkish Airlines will begin direct flights between Ankara and Tbilisi from January 18, 2019, whilst Air France will open a new route to Georgia from March 31 to October 26, 2019.
Georgian Airports experienced 23% more passenger traffic from January – November 2018, totaling 4,688,177 passengers. Kutaisi International Airport saw 47% more passengers, likely thanks to the introduction of more flights from eastern European budget airline, Wizz Air.
The introduction of Wizz Air to Kutaisi has demonstrated how budget flights can affect passenger numbers. The number of passengers travelling via Kutaisi airport has more than doubled since the introduction of Wizz Air flights in 2016. However, if another budget airline were to open in Kutaisi, plans would have to be made to develop the infrastructure of the small airport. Nonetheless, the offer of Ryanair flights could increase the number of tourists coming to Georgia and help the tourist industry continue to grow.
By Amy Jones
27 December 2018 18:33