158 Cases of H1N1 Registered in Georgia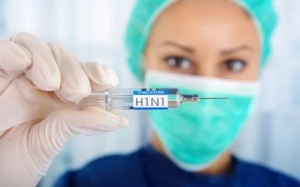 Amiran Gamkrelidze, Head of the National Center for Disease Control (NCDC), stated that as of January 7, 158 cases of so-called swine flu (H1N1) have been reported in Georgia.
The NCDC Head stressed that amid the current situation, the Ministry of Health has made a decision on the Primary Healthcare Protocol and five healthcare facilities in Tbilisi have started working in an emergency regime.
"There are about 162 laboratory-confirmed cases in our country. 158 are H1N1, while other 4 cases are H3N2. The B-type virus has also been revealed," he explained.
Gamkrelidze added that according to the last week data, there are 256 cases per 100,000 population, 21% less compared to the previous week.
The list of the medical facilities, which will work 24/7 is as follows:
Med capital Gldani Ltd., Vekua N 18;
Med capital Saburtalo Ltd., Gamrekeli N 19;
National Training Center of Family Medicine, Tsinamdzghvrishvili str. 57.;
Medsi Ltd (Vere-21), Kiacheli N 18;
Med capital Samgori, Moscow Avenue 4;
H1N1 flu is called swine flu because in the past people who caught it had had direct contact with pigs.
Nowadays, people who have it can spread it one day before they have any symptoms and as many as 7 days after they get sick. Children can be contagious for as long as 10 days.
The symptoms are almost much the same as seasonal flu and can include:
Cough

Fever

Sore

throat

Stuffy or

runny

nose

Body aches

Headache

Chills

Fatigue
Like the regular flu, swine flu can lead to more serious problems including pneumonia, a lung infection, and other respiratory problems. And it can make an illness like diabetes or asthma worse.
The Ministry of Health of Georgia called on the population to visit the facilities as soon as they notice influenza symptoms.
By Thea Morrison
07 January 2019 13:45