ISIS Claims Responsibility for Apartment Block Explosion in Russia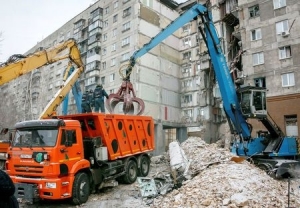 The Islamic State has claimed responsibility for the Magnitogorsk apartment block explosion on December 31 that killed 39 people.
ISIS claimed responsibility for the attack in its Al Naba newspaper published on 17 January. Some Russian media sources also reported that three men, described as radical Islamists, blew up the apartment block.
Despite these claims, Russian investigators insist that the apartment building explosion was caused by a gas leak, relatively common in Russia due to an aging infrastructure. They say that militant groups often take false credit for such incidents and that no traces of explosives have been found at the scene.
"I suggest journalists do not trust statements from terrorist organizations, who as you know falsely take credit for all high-profile incidents in different countries," Svetlana Petrenko, a spokeswoman for the Russian Investigative Committee, said in the statement.
Russia has been targeted by Islamist groups multiple times. In 2017, an attack in a St. Petersburg Metro train carriage killed 14 people.
By Amy Jones
Photo source: Reuters
18 January 2019 22:09