Kakheti to Host Telavino 2015 Wine Festival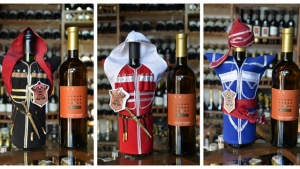 Kakheti, a region in the eastern part of Georgia, will host the 2015 Wine Festival on October 4th.
The event takes place in the Kakhetian capital Telavi and is supported by the Ministry of Economy and Sustainable Development of Georgia and the Georgian National Tourism Administration.
The festival will also recognize Georgian Wine Day, which is celebrated across the country.
Different wines produced by a variety of wineries – larger companies as well as independent wine makers – will be presented to its visitors, alongside a wide selection of traditional Georgian cuisine.
Visitors can enjoy traditional arts and crafts, such as ceramics, textiles, Georgian dance and folk music.
The festival is organized by the Kakheti Wine Guild and the National Wine Agency of Georgia.
PROGRAM
1:00 P.M. - 1:30 P.M. – Opening ceremony
1:30 P.M. - 5:00 P.M. – Wine tasting, art sale, traditional dishes, art exhibition of Telavi painters
2:00 P.M. – Live music and dance (Traditional Georgian dance and folk music)
5:00 P.M. - 6:00 P.M. – Closing ceremony
Nina Ioseliani
03 October 2015 18:58