Minister of Economy Comments on TBC Bank Case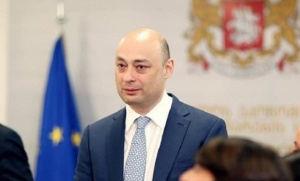 Georgia's Minister of Economy and Sustainable Development, Giorgi Kobulia, says the recent issue about the TBC Bank represents a "great legal component," adding the case is a priority for law enforcement bodies.
On Thursday, the National Bank of Georgia (NBG) decided to suspend the authority of the TBC Bank's Supervisory Board Chairman Mamuka Khazaradze and his Deputy Badri Japaridze.
The National Bank of Georgian explains that after examining transactions conducted by TBC Bank 2007-2008, it was revealed that Khazaradze and Japaridze had violated the requirements of the legislation regulating conflict of interest.
"The allegations that have been voiced are serious. It is necessary to clear them, and we cannot claim this is political process. I do not have the impression that this particular case is pressure on business, because here there are quite serious allegations that have factual evidence behind them. Therefore, in this matter, the competent authorities should clarify everything," the Minister said.
Khazaradze took to Facebook to address the issue. According to him, an organized campaign against TBC, he and Badri Japaridze, has been underway for eight months.
"The NBG wants to distance us from the company we created together 27 years ago and which has now become a successful, international, London-based, multi-billionaire organization with a team of up to 10,000 people," Khazaradze said.
He added one of the most well-known legal companies in the world, Dentons, studied the operation carried out 11 years ago and concluded that no money laundering, abuse of power or any criminal act or conflict of interest took place.
Khazaradze is going to sue the NBG for suspending his rights.
By Thea Morrison
Related stories:
TBC Bank to Sue National Bank of Georgia
15 February 2019 12:44