Royal Bavarian Beer Kaltenberg Hits the Georgian Market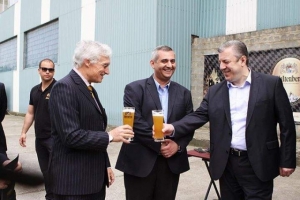 On May 23, 2015 an agreement of collaboration was signed between Castel Georgia and the representatives of the royal Bavarian beer company – "Kaltenberg," officially launching the new brand at the local market. The ceremony was attended by the Minister of Economy, Giorgi Kvirikashvili and Prince Luitpold of Bavaria, whose family is the rightful owner of Kaltenberg.
The Royal family produces beer in several countries across the world in accordance with all the standards of the "German Beer Purity Law" (aka Bavarian Purity Law), which is a regulation concerning the production of beer in Germany, meaning that only the highest quality ingredients should be used in production.
The law was created on 30 November 1487, when Albert IV, Duke of Bavaria implemented it, specifying three ingredients – water, malt and hops – for the brewing the beer. Later, in the city of Ingolstadt in the duchy of Bavaria on 23 April 1516, two other dukes, endorsed the law to be followed in their duchies, adding standards for the sale of beer.
"We've gone through a very long and difficult process to reach an agreement with the representatives of Kaltenberg. Apart from the substantial investment by the German side in the culture of proper consumption of beer in Georgia, we are very pleased that they recognized the ongoing processes in our factory in accordance to the most important beer production charter in the word – the Bavarian Purity Law," stated the Head of Castel Georgia, Temur Chkonia.
Kaltenberg is now available throughout the entire country for those who want to taste royal Bavarian beer.
Beqa Kirtava
28 May 2015 22:50