Georgian Takes First Place in Chess Tournament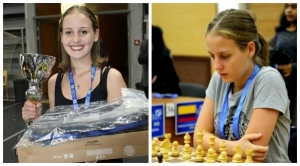 18 year old Nino Khomeriki triumphed at the European Youth Chess Championship 2015 in Croatia.
Scoring 8 out of 8 points in Girls U18, she was able to defeat her main opponent Adelka Velickchy by a half point.
Khomeriki's age group consisted of 18 participants.
The Championship was organized by the Croatian Chess Federation, with support of the European Chess Union.
Nina Ioseliani
05 October 2015 17:24