TBC Ready for Dialogue with National Bank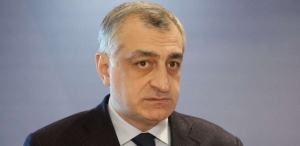 Mamuka Khazaradze, Chairman of the Supervisory Board of TBC Bank, stated at a special conference that they are ready to work with the National Bank of Georgia (NBG) on the recent developments regarding the bank's transaction 11 years ago.
"We are ready to continue dialogue with the National Bank to find a way out in order to avoid potential negative impacts on the country's investment environment and economy," he said.
Khazaradze noted that TBC respects state institutions and the law but they cannot agree with the decision of the NBG to suspend the authority of the Chairman of the Supervisory Board and his Deputy, Badri Japaridze.
"TBC Bank filed a lawsuit against all decisions of the NBG on the 11-year-old case and we look forward to justice," he added.
The founder of the bank also emphasized that due to the high public interest, all materials had been sent to international financial institutions.
"We have the conclusion of an international law firm Anton's, which clearly states that these transactions have nothing to do with money laundering or violation of bank regulation or conflict of interest," he said.
Khazaradze also stated it would be good to set up a special commission of local and foreign legal companies, NGOs, representatives of the embassy or any interested sides.
"We are ready to provide the commission with any information, any records about this issue, "he said.
On February 14, NBG stated that after examining transactions conducted by TBC Bank 2007-2008, it was revealed that Khazaradze and Japaridze violated the requirements of the legislation regulating conflict of interests, therefore it suspended the authority of the two men.
In early January Georgia's Prosecutor's Office launched an investigation into one of the transactions of the bank, made 11 years ago. The agency noted the case concerns "illicit income legalization and money laundering."
Georgia's Association of Banks, and also the International Chamber of Commerce released statements, supporting TBC.
By Thea Morrison
Related stories:
19 February 2019 11:16