Kakheti in Top 10 Intriguing Wine Regions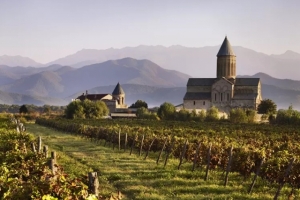 Georgia's premier wine-producing region, Kakheti, is among the top ten most fascinating wine regions in the world.
One of the world's largest travel guide books, Lonely Planet, has named Georgia's eastern region Kakheti, along with Spain, Italy, France, New Zealand and others, as the most intriguing regions in the world to taste wine, stating that tasting wine in the region it is produced is a different experience to tasting it other ways.
According to Lonely Planet the Georgian wine experience is like no other.
"The story of wine here is so old, so real, that it can make what we know of ancient Greece and Rome seem like recent history. Georgia is widely regarded as the land where man first learned to tame the wild grapevine, around 6000BC," the article stated.
The article also revealed that even in modern ethnology the Georgian wine makers prefer using traditional techniques.
"Grapes are still harvested by hand, and foot-pressed in the hollowed out trunks of ancient trees. The juice flows into underground clay amphoras, where it ferments and matures without additives or manipulation," the article continued.
Image by Andrew Montgomery / Lonely Planet
07 October 2015 13:29