State Minister of Diaspora: Offering the Right Goals and Philosophy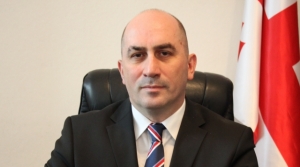 The recent alarming situation involving refugees in Europe once again put the spotlight on the very difficult situation with emigration from Georgia. The Office of the State Minister of Georgia for Diaspora Issues has been working hard and has introduced a number of important events and initiatives throughout the last few years. One of them is Global Diaspora Week, which will take place in Tbilisi, on October 11-17, 2015. Prior to this event, Georgia Today met with Mr. Gela Dumbadze, the State Minister for Diaspora Issues, to discuss the Office's work, emigration problems, the upcoming Diaspora Week and the Leuville Chateau.
Q: Global Diaspora Week is already the second large diaspora event this year. What can you tell us about it? What awaits us next week?
A: In the framework of Diaspora Days, we conducted a Professional Forum this May. It was the first professional platform at which local residents and officials could meet with Georgian professionals working abroad. I am glad to announce that it was a very successful project. Now we are excited to open the second Global Diaspora Week with the participation of diplomatic corps and our honored guests – my Turkish, Azerbaijani, Armenian counterparts, high-ranking experts from the US, UK, Czech Republic, Germany and many other countries – people who work on the issues of emigration and diaspora. Georgia's Prime Minister Irakli Garibashvili will open the event and highlight the main topic of the Week – Diaspora Investment and its Importance for the Georgian Economy.
Q: The economical theme seems to be the main focus when discussing diaspora issues.
A: Diaspora investments in /the/ Georgian economy are significant due to the fact that 12% of annual GDP is made up of diaspora money transfers. We will talk about this more at our Economic Forum on October 13. We will also give an opportunity to diaspora representatives, who already have investments here, to share their experiences with all stakeholders and ministries. We will also offer a tour in Sighnaghi, Kakheti region, where our guests will be able to see the best examples of diaspora investments.
Q: In addition to business topics, you pay a lot of attention to cultural and information issues.
A: In the framework of the Global Diaspora Week we will have information-sharing and a concert with the participation of diaspora celebrities. Our Office also plans to open Giorgi Danelia's sidewalk star outside Rustaveli Cinema. In fact, it is our everyday job to attract the attention of the public, state and all structures to diaspora potential and to involve them in Georgia's development.
Q: Diaspora face many problems abroad. Do you assist in tackling those problems?
A: It's one of the priorities of our Office. Diaspora all around the world have different problems and we conduct regular meetings with them to study their needs, connect with the right government structure, involve media representatives and attract public attention to this problem. In particular, there are some special regions. The biggest Georgian diaspora is in Russia and Greece.
A new wave of economic crisis in Greece seemed to create a lot of problems with repatriation that did not correspond to reality. Despite this, throughout this year, I visited Greece many times and monitored developments.
There is quite a different situation in Russia. According to unofficial sources, about half a million Georgians are in emigration there and, due to the absence of diplomatic relations, we are not allowed to go there and fulfill our obligations. Nevertheless, our fellow citizens often visit us in Georgia and ask for consultation or help to cope with some problems.
Q: What can you name as the biggest achievement of your Office in all these years?
A: We know that after returning home, our Office is not obliged to serve former emigrants, but we still take on this responsibility, because for many years we kept in touch with these people. We carry out the role of the provider. If they have problems with education, together with our consultant they go to the Ministry of Education to solve them, if there are some economic problems, we send them to various investment companies, and so on. The second big achievement is that we have created new platforms where people are able to exchange experience and contacts; raise the level of diaspora organizations; and have an opportunity to use the conditions of our memorandum with the World Bank, USAID, and foreign embassies. This enables diaspora to develop their projects.
Q: You met the French authorities to discuss the Leuville Chateau issue. What was the result of this meeting?
A: Leuville Chateau is a place of extreme importance for Georgia and its people and I can say that it is another achievement from our side. After twelve years, we have every reason to believe that we will sign the agreement of Leuville Chateau's transfer to Georgia in 2016. The Government of Georgia allocated more than 100,000 Euros to transform and maintain the venue within this transfer agreement. In future, a group of well-known Parisian architects and designers will be part of a team to remodel Leuville Chateau. We will protect the Chateau, which is considered as a little part of Georgia in France.
Q: There is a very serious issues concerning refugees in Europe nowadays. At the same time a large number of Georgian emigrants are scattered throughout the world. Do you have any tools to help stop this exodus [from Georgia] and make Georgia attractive to our diaspora?
A: We call it the "Eternal dream". I'm realist and know that diaspora face many problems in returning to Georgia and many of them are forced to go back into emigration. The only solution is in our unity. We all should get together – government, local people and diaspora - for Georgia's wealth and prosperity. The majority of our emigrants do not have prestige work abroad, but receive better salaries. Therefore, if a teacher here is guaranteed a 1000 GEL salary, she will be more likely to come back. If a businessperson knows that Georgia is a better country to launch a construction project, he will perhaps choose it over Turkey and other countries. It seems to me that another achievement of our Ministry is the offering of the right goals and philosophy, without any illusions. We just need to build our country's future together.
Eka Karsaulidze
08 October 2015 20:54