TBC Bank iPad Bank Awarded at the Worldwide Marketing Competition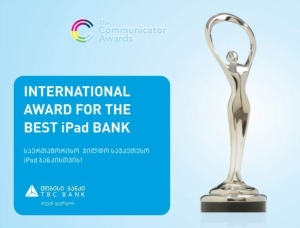 TBC Bank iPad Bank has won the Award of Distinction in mobile apps at international marketing competition "Communicator".
TBC Bank is the first bank in Georgia to win a prestigious award of "Communicator" for creating a technological product. 'Communicator" is a leading international award, founded two decades ago, which gives awards to companies, functioning in many countries of the world, for the best achievements in marketing and communications.
More than 6000 companies participate in the competition annually and try to win in various categories, including: audio, video, print, integrated companies, marketing efficiency, online video, web sites, online advertising, and mobile applications.
The criteria for selecting the winning companies is the scale of impact the marketing company or product has on people and customers. According to the organizers of 'Communicator," the Award of Distinction is given to those companies whose projects exceed industry standards in quality and achievement.
All winners of The Communicator Awards are hand-selected by AIVA (Academy of Interaction & Visual Arts), which involves professionals employed in communications and marketing industries. The jury is comprised of the representatives of such companies as Disney, The Ellen Degeneres Show, Estee Lauder,  MTV Networks, Sotheby's Institute of Art, Time, Victoria's Secret, Wired, and Yahoo!   
"We are proud to be the winners of such a prestigious award. Especially as this prize is given for such a modern technological product as the TBC Bank iPad Bank. This makes us sure that we are following the new trends in technological development, and creating products which are tailored to the customer of the 21st century," said Vakhtang Butskhrikidze, TBC Bank CEO.
28 May 2015 22:53