Green Budapest to Celebrate One Year Anniversary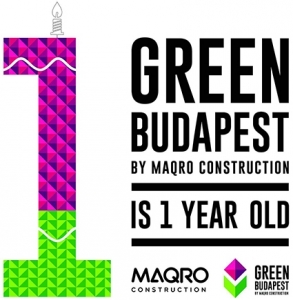 International construction company Maqro Construction will be celebrating the one year anniversary of one of its most important residential complexes, Green Budapest, on October 9th. The event will be attended by 300 guests, among them the Minister and Deputy Minister of Economy and Sustainable Development of Georgia, the Mayor of Tbilisi, the company's management, representatives of partner companies and Green Budapest residents. After the official part the guests will see the show rooms, followed by unofficial part: live music, a Georgian and European buffet, the cake cutting, and distribution of gifts. Most important, the residents will have the opportunity to meet each other.
"We do our best to meet our clients' interests with sales groups working with each of the clients individually. The anniversary celebration is a confirmation of our respect for our clients. We'd like them to get better acquainted with each other and make friends in a comfortable atmosphere," General Director of the company, Murat Avci, told Georgia Today.
Purchasing a new apartment means improving living conditions and changing your life for the better. But comfort counts tenfold in your own apartment when the company takes care of the everyday problems of residents right from the start; takes those problems into consideration and creates the ideal conditions to solve or make things easier. The intensity of a city makes each second wasted on basic services significant. Residents of Green Budapest will be provided with a number of services in their own protected area. And this is granted to them by the company Maqro Construction whose main working principle is to create maximum comfort. The 11700 sq. meter residential complex of Green Budapest offers 351 European-standard apartments with complete renovation - bathroom set, kitchen furniture and built-in appliances. Diverse infrastructure includes a basketball court, treadmill, skateboard ramp and children's playgrounds, child care and fitness centers. The first floor will be devoted to the primary use of the goods stores, beauty salons, entertainment and recreational centers, cafes and other important facilities. The complex is located in the city center and is surrounded by a recreational area that is a guarantee of a healthy ecological and cozy environment. The construction is carried out with the latest safe materials. Residents are given the unique opportunity to select the color and quality of internal repair materials on their own. Additionally, construction is going on at a rapid pace and will end in May 2016 instead of September of that year. Residential area protection, cleaning, green area care-protection will be free of charge during a year.
Maqro Construction is one of the largest investors in Georgia and has invested in the country's economy since 2013. During this short period the company has implemented such large-scale projects as furniture factory Belissa and Teleset, residential project Green Budapest, and international four-star hotel Mercure Tbilisi Old Town.
Based on the preliminary data of 2015 of the National Statistics Office of Georgia, Maqro Construction's two important projects, residential Complex Green Budapest ($45 m.) and hotel Mercure Tbilisi Old Town ($16 m.) are the top direct foreign investments in Georgia.
Live Happily! Maqro Construction will take care of the rest!
08 October 2015 20:57