British Council Celebrates Customer Service Week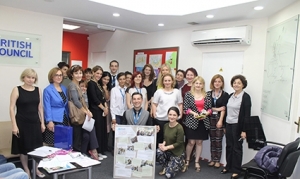 Customer Service Week is a week of opportunity to raise awareness of customer service and the crucial role it plays in successful business performance and growth of the economy. It is observed annually in the first week of October worldwide. Georgia Today met with Zaza Purtseladze, Director of the British Council in Georgia, and Salome Shalamberidze, Customer Service Coordinator of British Council and winner of Global Customer Service of 2013, to find out what Customer Service Week deals with and how it is celebrated in Georgia.
Q: Salome, what is Customer Service Week?
A: Customer Service Week is a very important event celebrated differently in every country. In the UK it is called the National Customer Service Week. During one week in October, all the organizations celebrate it. The main idea is to highlight customer service in almost all fields that develop and grow business. During the week, organizations get the opportunity to emphasize the value of their customer service team, specifically employees who work at the frontline and directly face customers. Secondly, they get to thank customers for being loyal and for trusting in the organizations. For the organizations it is a unique opportunity to demonstrate that they value and care about their customers.
Q: How do you celebrate Customer Service Week in Georgia?
A: In Georgia, British Council has been celebrating this week for many years, choosing different themes each year that are important for customer service. This year our theme is attracting, winning and retaining customers. This is a holistic approach to customer service that organizations should apply to every aspect of their processes, procedures, quality control and strategy in order to succeed. Our organization is working very hard on getting the whole organization to have this marketing, selling and policy of delivering as one team. Because customer service does not deal with only frontline staff. It is marketing; the message that goes from the organization, finishing with the policy 'we promised and we deliver.'
We started our 2015 celebration with World Teachers' Day and had a meeting in-house. We thanked our teachers for their hard work and they felt valued and a part of our chain. Additionally, throughout the week we're collecting customer feedback and will be posting it on Facebook for promotion. Also, we have two winner customers we awarded with who joined our teaching center in autumn 2013 and have since reached their advanced level. We met them personally and thanked them for their loyalty. This is very rewarding to see how many people trust us. We will also be going to schools, delivering presentations about exam activities, the teaching center, conducting lessons to show them what our courses are like. We try to spread information and hope other organizations will join us in celebrating this week.
Q: Zaza, what does customer service mean to the British Council?
A: We take customer service very seriously. Customer Service Week is hugely important for the success of our business operation, particularly for our teaching center. We want excellence of customer service in our country. We have an absolutely brilliant customer service team, working very hard to help our customers, to make their journey easier and provide them with the best possible services. Once again, I think that success of our teaching operation hugely depends on customer service. That's why we take it very seriously and want to share this information with other organizations in Georgia and to acknowledge the importance of customer service in general.
FROM THE EDITOR: In the spirit of Customer Service Week, Georgia Today would like to thank its loyal Readers and hard-working Team. Georgia Today has been going for a fabulous 15 years and goes from strength-to-strength- something that it could not do without your support!
Meri Taliashvili
08 October 2015 21:03