ASB: Getting Kids Ready to Face Disaster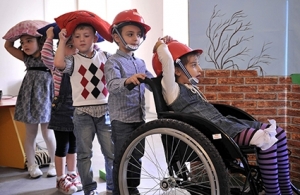 Georgia is a highly disaster-prone region with a hazard-profile of floods, earthquakes, droughts, storms, landslides, mudflows, avalanches and other extreme climate events. The disastrous flood of June 13 in Tbilisi is evidence of this. That is why Arbeiter-Samariter-Bund's (ASB) project We are Ready! – Building Disaster Resilient Preschools in Georgia seems of vital importance.
The project was started on June 2014 and over 18 months experts are teaching kindergarten children and their teachers how to behave during disasters. Care-givers receive child centered First Aid trainings, so they have basic and necessary information how to save a child's life before professional help arrives, and are involved in awareness-raising activities. The project also envisages provision where possible of equipment within kindergartens- fire extinguishers, megaphones, and First Aid kits to increase their disaster preparedness capacity.
Organizers highlight that their main aim is to instill a culture of safety in children from the very early years. Trainings for children are fun and interactive – with response to disaster made into a memorable game. Yet the children do understand the danger of natural disasters.
In total 27,297 people, including 24,612 children, are benefiting directly from the Disaster Risk Reduction (DRR) project and 344 preschool institutions are being covered in areas highly exposed to natural hazards and disaster risks, such as Georgian regions: Samegrelo-Zemo Svaneti, Adjara, Samtkhe-Javakheti and Tbilisi.
The project is realized in partnership with relevant ministries of the Government of Georgia: the Emergency Management Department of the Ministry of Internal Affairs, Ministry of Education and Science, Ministry of Environment Protection and Natural Resources, and Regional and Local Authorities – who each have a role to play in coordinating disaster management and reduction activities in order to ensure that the policy development for disaster risk reduction supports the sustainable results of the project.
According to the latest reports, the ministries of Georgia endorse all DRR materials. The culture of safety is standardized and made into an integral part of the educational agenda. In addition, DRR is now introduced in Samtskhe-Javakheti University as a teaching course.
Eka Karsulidze
08 October 2015 21:06