Not without a Fight: Ireland-Svaneti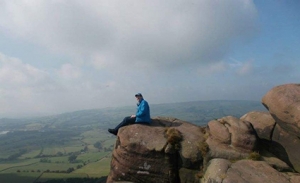 Some weeks ago I was contacted via Facebook message by an Irishman who had a few questions about particular things in Mestia, which I was glad to be able to answer. He was coming to the region soon to do some hiking up mountains, and I also had the opportunity to find out more about him. Herewith, an introduction to one of the kinds of people who are drawn to the Caucasus, followed hopefully next week by his own thoughts on Svaneti itself.
Fergal Hingerty turns out to be no ordinary hiker or mountaineer. Not only because of the remarkable things he has achieved and records he has broken on the high places of the UK, but doubly so because of the hurdles he has had to overcome to be walking at all...
Now about 50 years old, in 2001 Fergal was diagnosed with chronic back pain due to spinal degeneration, brought on by an earlier back injury. Back pain? That's it? Well, given that the spine is central to the body, if it goes wrong, the whole body suffers. So chronic back pain should be bad enough to stop a normal person from considering going up mountains, wouldn't you think?
For all its centrality, the muscles of the back are generally much weaker than the leg muscles. My father told me, from his own position of two fused vertebrae after a pinched nerve, always to lift something off the ground with bent legs but a straight back, never bending down to it, but squatting. I've been careful to avoid his issues, and the hard work sometimes required in village life in Svaneti, along with no injury, has paid off. Fergal was not so lucky in the injury department; these things happen!
He underwent an operation of nearly ten hours, and about ten years of treatment overall, most of it unsuccessful. The despair and agony of all that and its attendant recovery process are something one can hardly imagine. But here was someone determined not to let it sideline him. He pushed himself through rehabilitation, and the hill walking became part of his recovery process. Great views and measurable challenges must have been just what he needed because Fergal is now the first person on record to have climbed all the county tops (highest point in a county) in both Ireland and Wales, as documented at www.hill-bagging.co.uk. No small feat for a fit person, but for one recovering from such an ailment—really remarkable and worthy of commemoration.
Now, a Caucasus native might scoff at what the UK calls "mountains": indeed, the highest point in the UK is Scotland's Ben Nevis, a mere 1344 meters above sea level. Ushguli isn't even a mountain and it's 2200 meters up, Europe's highest village! My house in Etseri is at a higher altitude than Ben Nevis! However, as a British booklet I have called 'Safety on Mountains' points out, one can die just as easily from exposure or a fall on a small mountain or a hill as on a Kazbegi or a Shkhara. If you're not prepared for the weather, or it changes beyond your preparations, or you get stuck somewhere... wherever you are, it can mean the end for you. And so it happens, both in the UK and in the mighty Caucasus.
Fergal hopes that his determination will be an inspiration to people with challenges everywhere, of whatever sort, to push themselves and do more than they think or others tell them they can. The resulting euphoria from such success must make up for the struggle, and silence the naysayers too.
Now, having extended his adventures beyond the UK into other parts of Europe, Fergal has turned to some of the heights of Svaneti. He's not looking to climb technically with pitons, axe and ropes, but that does not at all belittle his efforts. We look forward to hearing next week from his own notes of his time here in our neck of the woods: what was new and wonderful, what the unique things were- both good and bad. I'm sure he will have much to tell.
I, too, find myself challenged from my introduction to Fergal not to give up on the things which are in my way, both physical and mental. There are plenty of things which I know (or suspect) that I can't do at all, or can't do alone without help. And others which I am supposed to tackle and in the process grow. Not necessarily becoming more self-reliant (I know my weaknesses), but still, to grow.
Next week we'll hear from the man himself after his visit to Svaneti.
Tony Hanmer runs the "Svaneti Renaissance" Facebook group, now with over 1250 members, at
www.facebook.com/groups/SvanetiRenaissance/
He and his wife also run their own guest house in Etseri:
www.facebook.com/hanmer.house.svaneti
Tony Hanmer
08 October 2015 21:10